Icicles
May 1, 2009
I guess it happened so gradually I didn't notice. Like icicles melting off the roof – winter thawing into spring. Maybe it went slower when I tried to watch it, like the clock in the math room. But one day, like realizing it was finally warm enough to wear shorts, I realized that he wasn't my friend anymore.

I probably should have noticed the day another friend asked about it: "Are you guys still, like, friends?"

"Yeah," I'd replied, in that of-course-why-are-you-even-asking kind of voice, acting like nothing was wrong. He shrugged it off, changed the subject – probably seeing through it, not wanting to get into it.

Ryan and I had been friends since third grade. We were in the same class, with brothers who were friends. It was an inherited friendship – not that that made it any less. We looked the same. Played basketball. Loved video games. For a third grade relationship, it was surprisingly meaningful.

In fourth grade I wrote a story. It was about my best friend – who I played basketball with everyday, was the only one faster than me in tag, and picked up my lunchbox for me when I forgot at recess.

We were in the same class again in fifth grade. Except he went somewhere else with a special teacher for some classes. I was in enrichment math. It didn't bother me; we still played together everyday at recess. Everything was fine.

And so it went on. I went over to his house a couple times; got whipped in foosball. Didn't notice the fact that every year we had fewer classes together.

In seventh grade I didn't have a birthday party – busy with my brother going off to college, my school finals, practicing like mad for my viola solo evaluation – just kind of forgot about it. Ryan was too busy also I guess. I didn't get an invitation from him either that year.

Back then people used to always ask if we were brothers. We were. We acted like it. Even though they said he had a learning disability – I didn't believe it. I'd always said he was just as smart as me – he had to be.

Now I was in math two grades higher. We sat at different lunch tables. Didn't talk too much. And yet when that friend had asked about Ryan, my answer came so ready. There was no doubt. The icicles were dripping; but they were still there.

And I didn't want them to melt away.

Lockers slammed as another school day was coming to a close. I turned a corner and saw Ryan. He was talking to one of his new friends. I knew I could easily fall behind and not let him see me – like I'd been doing a lot lately. I didn't have to talk to him.

But then his friend was done talking. Ryan slowed down to talk to me.

"You're brother had to pay my brother thirty bucks," he said.

I hesitated, "Why?"

Ryan said something about a bet or a dare they'd made. I couldn't hear him over the hallway noise. I'd forgotten his voice. It was low and mumblish. Even though I didn't know what he was saying, I laughed.

As he walked over to his bus, I thought about it – we hadn't talked for two years. And now he just came and talked to me as if continuing a conversation from last period – just like old times. We couldn't completely pretend we hadn't noticed anything change. But as long as it meant we were friends again, I wouldn't mind.

The icicles has stopped melting.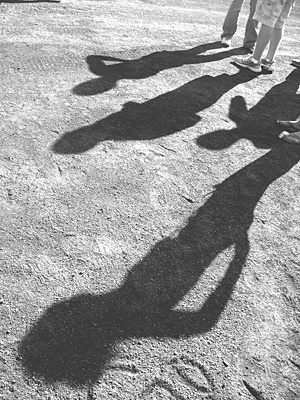 © Trella R., Mountain Lakes, NJ