Smart Dog
May 3, 2009
Naturally, when you think of dogs you think of a bounding dog happy usually presenting innocence and joy. Well, unless your dog's middle name should be Einstein, mischief, or deception.
I have a dog named Maxine. She is a black plot hound with a lean figure and a large muscular chest. With soft floppy ears and the passionate gaze brought by her milky brown eyes, her beauty is far from normal.
Maxine's mind is "different" from most dogs; therefore she presents us with astounding difficulties. For instance, when Maxine was a puppy, the first day we got her she managed to scramble out of her well secured box. Even though the walls towered a few feet above her she managed to slowly climb, using her feet like claws and balancing her weight in a corner creeping up the flat steep sides.
When a few months old she managed to "escape" her crate, for when I woke the door was open. This amazed me for even I had trouble fumbling with the crates complex door.
When Maxine was out of the crate she would secretly jump upon the doors with her fore limbs and twists the doors while pushing or pulling and opens the closed doors.
She always freely explored the lower part of the house and we no longer bothered to close doors.
When about a year and 6 months Maxine encountered her greatest difficulty. This challenge was opening the sliding glass doors into the house. At first we thought that we left the door open. But within time we were confirmed of Maxine's devotion. One day I walked downstairs to see Maxine with her front paws on either side of the long golden handle. She then simple hopped backward on her back legs with her nose also wedging the door ajar.
One day I walked outside and saw Maxine on our golf cart. She was sitting in the seat, and her paws were on the steering wheel. I was so disappointed I didn't have my camera.
Just yesterday I looked out on the porch. Laying in the hammock was Maxine. I did manage to snap a photo of that.
Somehow, when I sit broken and hurt, Maxine is always there finding a way to uplift my spirit. Everyday when I come home the first thing I am greeted with is her happy face and wagging tail. She is smart and disobedient, but she is my dog. No, she is more than a dog, she is family.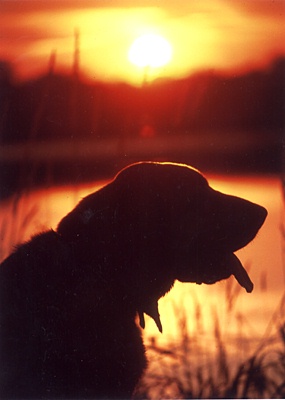 © Justin R., Angola, IN