Meet 2019
May 19, 2009
Microsoft recently wowed the technical scene with its visionary short film "2019". Via Microsoft, in 2019 students from the Americas to Asia might interact with the walls of their class-rooms; walls that open up digitally to different classrooms half way around the world. Students then laugh as they carry out conversations with their foreign classmates and finish each other's digital drawings. A mother also watches her child converse, but from the seat of her trans-Atlantic flight. Microsoft seems to paint a lofty and Science-Fictionesque picture of the classroom, but such advancements are closer than we think.

Technology continues to advance at an exponential rate. Classrooms across the world see more SMART boards hung up, with Teachers bridging the gap between their classrooms and computers. The Mesa Public School district of Arizona now offers "The Parent Portal Experience": an opportunity for to parents to check attendance or grades at any time. In fact, the state of Maine purchased over one-hundred-thousand MacBooks® for students from grades 7 to 12, but these are measures are only baby steps compared to what the next century holds.

Web-courses will become commonplace. Teachers will hold classes from home, presenting vast elaborate lectures, combined with citations and examples that are only a click away. Holograms are bound to take a roll sooner or later, allowing a teacher to literally move the variables from one side of an equation to the other. And eventually, as Microsoft predicted, students from across the world will be able to laugh together as they color in each other's art. Screens and electrical current will course through classrooms like the blood through our veins. But, all of this comes at a price: technology's ability to isolate and alienate.
Social-Networking provides the greatest example for technology's crude sister of solitude. facebook and MySpace users receive social interaction at lightning speeds without so much as stepping outside. In the time it used to take to catch up with one friend, anyone can "poke" twenty, chat with five and write a message to seven. Although, this isn't social suicide. People haven't forgotten to eat because of facebook, missed a flight or been late to their own wedding, or at least we hope so. Regardless, technology anywhere can be a social deterrent. But this one side effect can be easily overcome by simply keeping students and teachers in the classroom. By not plastering everyone's face onto LED and LCD screens, we can expect the students of tomorrow to be equally if not more sociable than the Children of today.
Obviously those who claimed that claimed "Progress peaked with frozen pizzia" were sadly mistaken. Technology's promises are unlimited. As long as we shy from the Orwellian telescreens, and embrace only the best Asimov's and Roddenberry's visions Microsoft's vision is in within the horizon; a vision of a world where students can communicate regardless of location or language. A world where astronomers will walk around Orion's nebula, instead of straining their eyes to the night sky.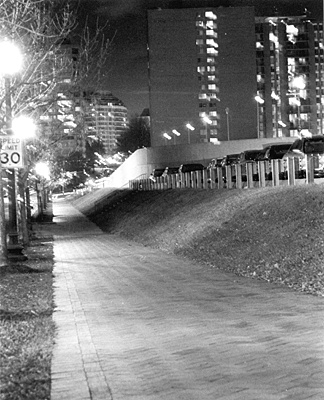 © Alicia S., Bethesda, MD