From A Baby To A Student My Life
May 13, 2009
My Life
By: Stephany Gutierrez
"What?" is the remark my grandma said when my mom told her she was pregnant. Mom was only 18 when she became pregnant. My grandma was in total astonishment, and she didn't even know how to react to it. She just basically didn't talk to her with all her rage. She could have blown the town up. My grandma didn't know how to talk about it, at that point if she did talk she knew she would've came down on to her like a hurricane.
Now lets not forget about my grandpa. He was furious the kind that you're not suppose to make him. My grandpa wasn't home, he was at work trying hard to get the money enough to pay for all the bills, the groceries, the needs and wants for his four children and his wife. He worked at a bank and earned enough money. He was paying for my mom's college. She had just came out of high school and wasn't in the working field yet, but since my grandpa was paying for it then imagine him coming home and finding out that his daughter is pregnant, he'd think that she's not appreciating all the hard work that he has worked for in the past just to pay for her college bill. It wasn't looking good for her. She was nervous at first she didn't want to tell them but she new she had to she had hid that for over about two months. When her stomach starting to look as if she was pregnant, then she told them. It was a disaster at first but then they knew that they had to take her to the hospital and she continued her college, he wasn't sure what people were gonna say about her being pregnant at a very young age. But they didn't really say anything just some people who talked about her, she learned to ignore them.

Sunday November 26, 1995 during church my mom's stomach goes down. "Mom I think its time!" she says. At that time she was petrified, panicky and she's thinking to herself "is everything going to be okay?" my grandparents were anxious knowing that there first granddaughter is gonna be born, they didn't know what to expect, from what the doctor had told them when they went to the check-up that everything was going to be okay. My soon to be godparents took off to the hospital my mom felt like she was sick to the guts, she had never ever experienced this painful and frightened feeling before. Only my grandma and my godmother knew how rough and agonizing the feeling and stress the mother has right then. My mom couldn't imagine if that was painful then how excruciating would it be to deliver the baby! It's the hardest thing a mother could do (hardest job) but that's what I've heard because I haven't experienced it yet. Then they finally got to the hospital and that was a really big relief about getting there without her water breaking. But as soon as they started to get in the elevator her stomach feels like as if her water was going to break, but they were glad they didn't because it took time to get to the doctor. She's experiencing a really rough time; she had never experienced that before (of course because she hadn't had a child). "OWW!" is what you heard on the third, fourth and fifth floor. She was screaming as if someone was going to kill her, and its coming. The baby is on its way out and there's no way to stop it. It's a blessing for my mom, she's overwhelmed and exhausted by the time it was coming out. And it was a miracle that it all turned out good, she was tired of course but she was the second person to hold me in her arms, all the hard work she had done to get the baby out was paid off. I asked her the other day not to long ago if she ever regrets her mistake, and she told me "No, never you're the greatest thing that has ever happened to me".
I grew up with only a parent for a while just my mom and I. Dad was in the United States earning money and sending it to us to pay and get us stuff. Mom had graduated college, now in the working field. Well everyday it was usually the same routine over and over again. She would wake up, take a shower, get dressed go make breakfast. Then wake me up put me in the shower, dress me and then give me my breakfast. Finally put me in the bus, then leave to go to work. After school she or my grandma would pick me up from school. Then one afternoon I remember perfectly like it was yesterday, my grandma had picked me up from school and we were walking home we had stopped by at the corner to get an ice cream for us. We were in a joyful mood when we got home mom still hadn't got off work, we just thought she was replacing some hours in her office or she hadn't finished a presentation. At home we were just enjoying our time not knowing it was going to be one of the last being in high spirits and waiting for my mom after school to get home. When she got home she had news for me it was bad news, mom refused to tell us what it was until my grandpa was home. She had a very confused face like if it was her life and death choice. We asked her what was wrong and she refused to tell us refusing in a stressful voice and look. We waited and waited until my grandpa got home. For hours we waited we wanted to know already, mom hugged me like never before, like if it was going to be the last time in forever. Finally grandpa arrived, mom said "hi" and gave him a hug and then told him to sit down. She broke the ice the silent she had since she got home. She told us "Carlos called me and told me he has the money enough for me only to get a ticket and fly to the United States to be with him. Then he told me that he was going to save money for your ticket so you can be with us, I don't know what to do and I don't want us to be far away from each other."

Well, time passed by and it felt like forever. I talked to mom almost all the time on the phone whenever she had breaks at work and when she had free time at home. I was glad we still kept in touch, after a while we didn't talk as much just on the weekends because it cost a lot of money to make a far away call, especially from the Guatemala to U.S. My grandparents and I had a fun time together while this experience happened I still wish I had spent the year with her, and I missed her very much. It was like the opposite of heaven to me. I still had my grandparents with me but I wouldn't regret it at all. My mom said it was the saddest time of her life ever. Anyways, I finally got the news that they had the money for my ticket I was genuinely satisfied and heartrending at the same time. My grandparents were crying their eyes out, so was everyone else plus my aunt and cousin was going with me, because my uncle was here with my parents. On the way here on the airplane, I know it was hard to leave the ones who love you but I had to there was no choice for me, and I loved my parents too .If it was up to me, we could've stayed there with all of our grandparents and family members. When I arrived it was the happiest day of my life. I saw my parents first time in a little more than a month. I also saw my new and only sister and my uncle, I hadn't seen him since I was two and of course I wouldn't have had remembered the stuff we did together as a family but at least I recognized him. From then on I lived with my parents I still thought and talked about the fun we had with my grandparents.
I was in kindergarten when I got here I had to go to school. My first public American school was Warren Elementary. My mom was sad when I left to go to school the first day she went inside with me, met my new teacher and saw the room I was going to be in, plus what I was going to learn. The first day was really hard and silent for me I was gloomy but blissful at the same time like always. Since I didn't speak English fluently I just didn't talk about it at all. Life went on the same. And now I'm in middle school, life is still the same with new experiences and fun filling adventures with friends and family.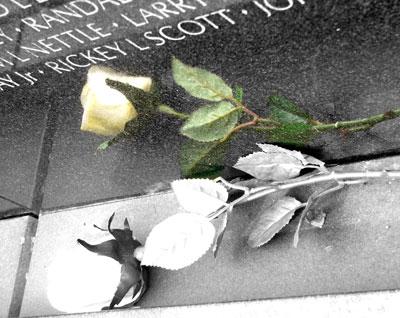 © Kimber E., Yorktown, VA