American History
April 15, 2009
Last year I interviewed my neighbor, a Vietnam veteran, for a project for my United States history class. We talked about his experiences in Vietnam, but soon the discussion veered off the topic. He told me he vividly remembers where he was, what he was doing, and who he was with when he heard the news of JFK's death. I guess when such an event happens, the details stick with you. Judith Ortiz Cofer remembers the day as well. In her short story "American History," Cofer retells her experiences of the day President Kennedy was shot. My neighbor told me that my memories of the 9/11 attacks will probably stick with me the same way, remembering every detail, yet my experience of September 11, 2001 is rather similar to Elena's experience. We both lived through days that would forever change history, yet our thoughts were elsewhere, more focused on ourselves.
Elena was in 9th grade the day JFK was shot. Her P.E. teacher, known for being mean and tough, told her class the news through sobs. Elena didn't fully understand the situation. Walking home she quickly noticed the differences already taking place. The neighborhood was quieter; they were grieving. Though the world was full of sorrow for the lost of their leader, Elena's thoughts are consumed with her plans for that night. Her crush, Eugene, invited her over to his house to study for an American History test.
I was in 5th grade when America was attack on September 11. My public elementary school did not tell us anything, but I knew something was wrong at lunch when my mom came to check me out. I had a MRI scheduled for that evening, so when my mom told me my appointment was moved up to that afternoon, I was confused. She got me in the car before she told me the news. I had never heard of the Twin Towers before, nor did I fully understand what a terrorist was. While the nation was full of fear and sadness, my thought were consumed about my health and the MRI.
When I think about my experience compared to Elena's, I can't help but notice the irony. Elena wanted so much to enter Eugene's house, spend the evening talking and studying with him. They had planned to study for an American history test. When she got to Eugene's house, Elena was rudely told to leave by Eugene's mother. The whole day, Eugene was consumed with the idea of them studying while missing out on the history taking place around her. I wanted so much to be anywhere but the hospital. I had never experienced a MRI before, and to my 10 year old self the machine was pretty intimidating. My nerves were on an all time high when the nurse pushed me back into the MRI and the loud noises began. The hospital I was at was a Children's hospital, and every nurse and doctor I met that day did their best to make me calm and comfortable while in their own minds they were just as nervous about things much greater.
In the end, Elena and I were simply a part of the crowd of emotions of the day. Both of us were young and too self-centered to see the effect of the events around us, yet at the end of the days we felt the same as everyone else. Elena felt miserable and heartbroken just like her mother and her P.E. teacher. I was nervous and scared just like my mother and the nurses at the hospital. I think an event like JFK's assassination and 9/11 displays the connection we all have with each other. Though our experiences are different, our emotions tend to run on the same frequency. We are all connected.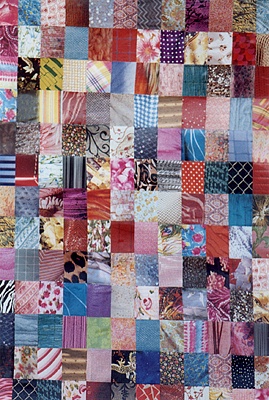 © Amanda F., New City, NY