Students Stand Up
April 12, 2018
On March 14, 2018, students around the country walked out of their schools together to fight for gun restriction laws. This happened exactly one month after the shooting at Marjory Stoneman Douglas High School in Parkland, Florida where 17 students and faculty were fatally shot, and 17 more were injured. The movement began in Florida, has since spread nationwide. Students and staff walked out to show their support for the mourning community and families (Lee).

Students today realize that gun violence is a consistent problem, and that it needs to be stopped. The youth in society are protesting the decisions that adults in government are making and fighting for a cause they believe in. Not only is this brave, but it is inspiring and encouraging as well. For instance, at Ramapo High School, a public school located in a small town in New Jersey, many students walked out for 17 minutes representing the 17 lives taken in the tragedy. They stood in silence as the victims names were read on the loudspeaker, then walked around the front circle of the school. Students and staff stood together to show their support for Parkland, and to fight for stricter gun control laws.

However, some schools punished their students for walking out. These students received a weekend detention, and others received a suspension. Students at Pennridge High School in Bucks County, Pennsylvania, were among one of the schools that punished their students for walking out. Those that walked out were given a Saturday detention. A video of the students in detention went viral on Twitter, and users of the app got angry at the school for punishing the students for their right to protest peacefully (Bocella). Some schools that had initially set punishments for students who walked out rescinded the punishment after receiving messages of hate online.
Overall, the students at Marjory Stoneman Douglas High School have started a movement that has given students their voice to protest against the government. Their March For Our Lives event had over 800,000 people show up in Washington DC alone, and more across the nation. Their bravery and courage has inspired others to join their fight to get stricter laws. As a group, the students of Stoneman Douglas they suffered an immense tragedy, but have come together to create a change so that other students do not have to go through the same thing. Despite receiving messages of hate, or being told that they are "too young" to understand how this issue should be dealt with, they will not back down.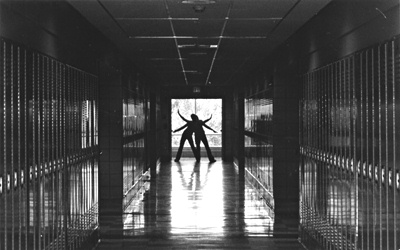 © Sheera G., Marblehead, MA