Don't Pray For Me
MAG
February 16, 2018
To those on Capitol Hill:
You prayed for Columbine. Your heart broke for Sandy Hook. Your condolences went out after Umpqua Community College. And here we are again. This cycle will not end until you act.
I am tired of seeing it in the news, tired of hearing you say how sorry you are, tired of the empty prayers, tired of the aching, tired of the fear, tired of the sorrow, tired of wondering if the next time it happens I will be the one whose bright future is cut short.
If so, I don't want to be memorialized in a vigil with a halo dangling above my name and strangers gushing about how terrible it is that I'm gone. The victims? You can bet they didn't want that either.
Don't give me your prayers and your broken heart and your condolences. I am sick of it, so sick that my stomach churns and my face twists with disgust. I don't want you to hope that everything turns out okay for me, don't want you to talk about how it should never happen to anyone, don't want you to cross your fingers for me. I want to survive, and nothing that you have done so far will stop a gunman from walking into my school and ending my life.
I don't fear a terrorist attack from a man with darker skin than mine when I get on a plane or go visit a crowded tourist attraction. I fear a terrorist attack while I sit in my Spanish class, an attack perpetrated by a kid who looks just like me but with an AR-15 cradled in his arms.
As long as your only response to these tragedies is sending condolences, prayers, and empty wishes, I could be the next victim. And if that happens, don't you dare pray for me or claim that your heart is broken. Because you could have done something to stop it and you didn't.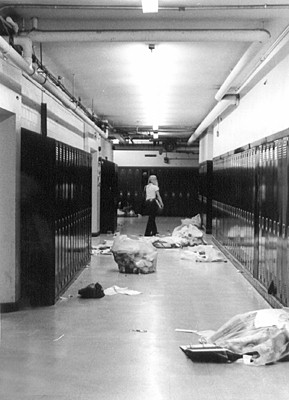 © Halsey S., Marblehead, MA