We Stand United
February 3, 2018
Imagine you are body. Now some of you may be confused at this point, even after only one sentence, but do not worry. Imagine you are a body. Now ask yourself. Was the first thing you imagined a body of water? Or perhaps an astronomical body such as a planet or star? Or maybe you thought of us, humans, because we all have bodies, right? Well, did any of you think of America? Although you may not have thought about it before, America is a body just like you and me. It possesses skin, a mind, and a heart just like we do.

The first element of a body is the skin. The definition of skin found in the dictionary refers to an outer layer or covering of something in particular. When you first look at someone, their appearances are clearly visible. The style of their hair, the color of their eyes, and the shape of their face are a few of the first things you might notice when looking at a stranger for the first time. What does America look like you might ask? Well, visualize all of the people in this country packed together in one infinitely large space. That is the skin of America. It is not just one ethnicity, one style, or one measurement, but a diverse range of appearances and backgrounds. Each and everyone of you makes up a part of America's skin and protection. Honor it.

The second component of a body is the mind more commonly known as the brain. You are all aware we have come a long way from traveling on horses and sending mail using pigeons. We are now living in a vast futuristic world of media and communication. The mind of America is composed of technology, innovation, and mentality attained by the millions of brilliant brains in this country. Henry Ford manufactured the first affordable automobile and Benjamin Franklin created electricity using only a key, some lightning, and a kite. These incredible people have empowered the mind of America. Where would be today without them and many others? American continues to grow as does its knowledge of all things.

The third and final segment of the body is the heart. The heart is one of the most popular shapes used today to show affection to another. Obviously, at the moment we are not talking about the heart shape, but a real heart. As you may know, this central organ is most important for keeping blood pumping throughout your body. America's heart is patriotism; the love for one's country. This patriotism keep the red, white, and blue blood running through our nation's veins. It is not a coincidence that two of our three flag colors are the same as the blood in our bodies. It is symbolism. We are expected to show devotion and respect to our home because the hearth of American is what makes it special compared to other countries. We must keep our heart pumping loud and strong for everyone to feel.

In conclusion, the skin, the mind, and the heart are strong separately, but when put together, they create a powerful body. So next time you are saying the pledge of allegiance or even looking at a globe, remember that you are a part of a body. The body of America.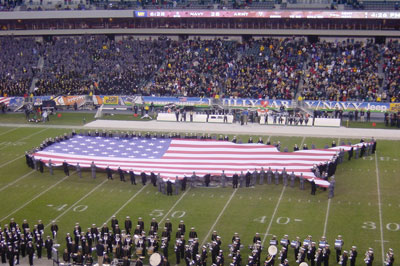 © Kristin B., Middletown, DE