Monsters
November 15, 2017
"Draw a monster. Afterwards, explain what makes it a monster."

When I walked into class, those were the words written on the whiteboard in front of our class. Communications class was always strange, but I found this to be a rather odd assignment. So, all the kids sat down in their assigned seats and quietly got to work. You could hear the scribbles of pencils and crayons but, other than the occasional mutterings, that was the only noise in the room.

I was focused on my drawing. No color. Simple lines. And a simple reason.

When we were done we were supposed to go to the front of the class, hold up our drawing, and explain what makes it a monster.

After several people went, and I realized it was getting closer to being my turn, I began to panic. Everyone else had drawn wild creatures with scaly tails and pointy teeth, wide mouths and piercing, evil eyes. To them, it was a joke. Before I could change mine, though, it was my turn to go.

As I stood at the front and held up my picture, I could see the confusion scattered across the room.

I had drawn a person. It wasn't a man, it wasn't a woman. It had no face, but large hands.

It was just a person.

"This is my monster. It's a predator of a very specific type." I paused a moment and saw my teacher's eyes, which were wide and looked like they were filling up with tears. I looked away before I started to fall apart. I moved my attention back to my drawing. "This monster…it'll take away your pride, your sense of security and self-esteem. It'll leave bruises on the surface of your body and afterwards, your skin…won't feel like your skin anymore. You become a thing. Something to appease the desires of this monster. Its hands are large because they can cover every part of your body, whether or not you said it was okay. Even after you've said the word 'stop'. This monster will invade your mind and crawl into your nightmares. You get scared that everybody is that monster. You begin to question the word 'trust'. You don't feel safe, and no matter how many showers you take, you'll always feel dirty."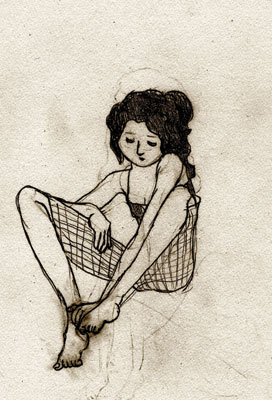 © Samantha W., Albany, NY