The Importance of Making Yourself a Priority
November 7, 2017
Let me begin this with a little anecdote. Four Saturdays ago, I wrote the SAT and I was exhausted. The reading section was incredibly tough and draining, and the pressure of studying for two weeks was insane, and didn't seem to look like it was gonna wear off soon. I was in post-exam hangover for the entirety of Saturday and Sunday. And then slowly, inevitably, Sunday evening rolled around and the mere thought of school the next day irked me off. It was too much to handle and I wasn't in the best state of mind. I'm usually not looking forward to going to school, but this time I really couldn't bring myself to it. I was so tired, just so damn tired. On Monday morning, my mom began scolding me when I told her I wouldn't go to school, and she told me to speak with dad. I did, and he laughed and told me to stay at home. I was relieved. I certainly wasn't expecting to be let off so easily.
I spent that day watching IT, relaxing in the silence of my home, being productive. I was in my element. I also caught up on sleep. Needless to say, I was energized by Tuesday and I felt a lot better going to college.
Deciding to take that day off, and taking care of myself was one of the best decisions I've made in recent times. Yeah you'll miss a bit of school work, but if you're not in a proper state of mind, you won't be able to focus which is worse than missing the class altogether.
That day I realized nothing comes before yourself. No one is more important than yourself, because whoever leaves and enters your life, you'll always have one person around, 24/7, whether you like it or not – yourself.
Taking time to look after yourself, your needs, your mental state, your priorities, and the stuff that matters to you, is really important. In this never-stopping world, we hardly find time to think about our self, since we tend to prioritize work or other people right at the top of the list. This is a mistake. The job you're working so hard for day and night, losing hours of sleep and unknowingly weakening your own personal relationships with people who actually matter, you may lose it at any instant. The people you're prioritizing and spending extravagant and unnecessary amounts on, they won't be around forever. The people who you like talking to, and helping out, sacrificing school work or family get togethers, they may snap the rope and exit any time. This happens more often than we like. The job can go at any time. People may leave at any moment. Who will you be left with? Who will help you through the dark times of your life? You.
In a mission to strengthen relationships with others, don't lose yourself. You can't get out of bed in the morning and don't feel your 100%, but your boss is hijacking your phone with emails of why you haven't made it to office yet? F*** him. Nothing is more important than you.
We have so much love to give out, but almost none for ourselves. This is wrong. Take a break. Treat yourself cause you're a goddamn queen. Curl in a blanket and watch a movie, safe in your home. Make some warm tea. Bake if that de-stresses you. Or workout if that works for you. Play with your pet. Talk to someone who means a lot to you (and vice versa). Go out and explore the city or even go shopping. Go into a coffee shop or restaurant and eat all alone,  just you and your thoughts. Dance like no one's watching… in your own home. Take a long ass warm shower. Get a massage done. Do something you love. Talk to yourself. Detox detox detox. Clean your room up if it's therapeutic. As long as you're not around negative energy and feel good, a quiet hum in your mind without worrying, anything is fine. But always, always keep yourself first. Don't do anything you don't want to. If your friends force you to drink, and you don't want to, say no. There's no harm in it. Because you'll bear the ultimate consequences. And real friends will always respect your decision, no matter what.
Nothing and no one is more important than yourself. Self love is powerful. It's finally time to love ourselves. After all, it's one of the only things we can control. Self love is self empowerment. Only then, can no one can knock us down.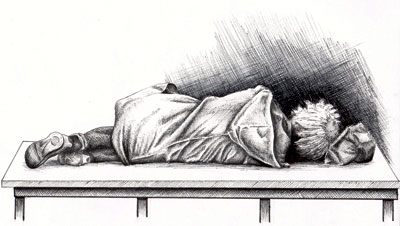 © Devin N., Sherrills Ford, NC