Protests of the National Anthem and Pledge. Your Thoughts?
October 24, 2017
During the 2016 NFL Preseason, San Francisco 49ers quarterback Colin Kaepernick sat through the national anthem during three of the four preseason games instead of standing. After extreme backlash for sitting during the anthem he began to kneel instead. Kaepernick stated that he "is not going to stand up to show pride in a flag for a country that oppresses black people and people of color…"

Numerous NFL players followed suit throughout the 2016 season and into the 2017 season, causing many debates throughout the nation regarding the true purpose of this style of protest and if it is or is not warranted.

Students across the nation are following suit causing further debates throughout local communities. Two teenage football players in Texas were kicked off their local team and forced to remove their uniforms during an anthem protest before a Friday night game.[1] A female teenager was expelled from her school for repeatedly not standing during the Pledge of Allegiance.[2] A Dekalb County high school's softball team knelt for the anthem, shocking local fans and parents; the Dekalb County School District supported the students' decision.[3]

Much of the debate now centers around the reasoning behind why teenagers are choosing to protest the anthem and exactly what it is they are protesting. Are they protesting race issues and the state of the government and current administration, or is it just another social media trend? The New York Times recently published a piece in which high school students explained why they protest anthems and pledges; you can find the article here: https://www.nytimes.com/2017/10/21/style/high-school-students-explain-why-they-protest-anthems-and-pledges.html.

We want to hear your thoughts and reactions about the anthem and pledge protests. Do you agree with these protests? Have you or anyone close to you taken part in these protests? Do you think these demonstrations are benefiting or harming the causes they represent? A recently published article on Teen Ink's website explores a teen author's opinions on the national anthem protests; you can find the article here: https://www.teenink.com/opinion/current_events_politics/article/967278/For-National-Anthem-Protests-Would-You-Stand/.
Send us your articles, poems, and artwork by visiting https://www.teenink.com/submit_work.php.
[1] http://www.cnn.com/2017/10/01/us/high-school-football-kicked-off-protest/index.html
[2] http://www.wfaa.com/news/attorney-plans-to-sue-district-after-student-suspended-for-not-standing-during-pledge/481780512
[3] http://www.myajc.com/news/local/school-district-stands-behind-team-that-took-knee-during-national-anthem/wVUTgn9Q2ZGiFBpewVrcGP/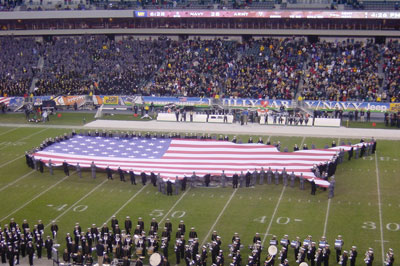 © Kristin B., Middletown, DE