Oh Say Can You See?
October 15, 2017
Oh say can you see an 18 year old fresh out of high school, shipping out to a Naval base on the east coast? A man, a hard-working security officer standing guard, protecting the president from potential assassination? A police officer bringing justice to the community he lives in so he can go home and be with his family? A boy with eyes peeled open and a smile breaking his face, listening to one of his grandpa's war stories?
Oh say can you see a high school junior, a percussionist, performing the National Anthem for a group of Korean War veterans departing from an Honor Flight back from Washington DC? Warmth in their weathered hearts as they acknowledge the sweet sound of their country's song? An invisible aura of respect stimulating their tactile senses reminding them of the sacrifices they made? Their wheelchairs, the Jeeps they rode in on their way back to base for the last time, remembering the bumps in the jagged road as if they were still there?

Oh say can you see a man working as a Marine security guard, protecting the US embassy in Iran? Held as a hostage in the Iran hostage crisis? Put in solitary confinement for 444 days, unaware of the efforts the US was putting forth to retrieve them? Remembering the lives lost when the helicopter unexpectedly sliced the fuel tank of the evacuation plane killing everyone on board? The same man now thriving as he continues to live his life?
Oh say can you see the once 18 year old, now a retired veteran honored by his grandchildren and former brothers in arms? The same boy once baffled by his grandfather's war stories, now with stories of his own? A 16 year old, his mind filled with stories so vivid, they almost seem to be memories of other lives pushing him to one day fight for his country?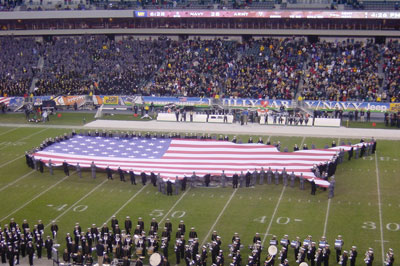 © Kristin B., Middletown, DE