What I Love about America
October 4, 2017
Born in England, made in America. That is how I am and that is what I would want to be. Made in America to me refers to everybody being allowed make there own choices. This freedom also let us take a chance, an opportunity, a place where we are paid to be creative. A country where we get new opportunities for better education, with millions of job opportunities, these reasons are why my family live in America and only visit my home nation.

My family shows love to the millions who serve and who have already fought on vacation over The Fourth of July. My family celebrates American traditions that John Adams set for the new United States before he signed the Declaration of Independance. Shooting off things that are brighter than the sun and that awaken the neighbors to remember those who fought and served.

Andrew Stemper, my dad, and a teacher for most, is the representation of the American Dream. After high school, he was able to make the choice to study abroad in Swansea. That is hard for people to get such an opportunity. He then went on to finish his teaching degree with straight A's. Two kids later, he moved back to the States with nothing, he is able to create a living for himself and his family. My dad is the American Dream and I am grateful for it.

Listening to the National Anthem before each game, leading the team, before a huge conference match standing together with your team. Everyone of the twenty-two players standing and showing our respect for those who fought for the right to play in big matches like that.

Patriotism, choice, freedom, respect, american dream, family, education, sacrifice, pride, dignity, integrity, joy, honor. Thirteen reasons why I love living in America.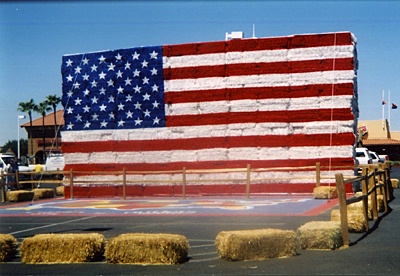 © Mary S., Grand Canyon, AZ