The American Dream, Freedom, and Tradition
October 4, 2017
The American Dream. America was built by hardworking people who wanted to succeed. Those people had the ability to purchase land, build a house, and raise a family. They would strive to work their way up and achieve prosperity. The American dream is different for everyone. Weather it is becoming the richest man on earth for one person or living comfortably with a family you love for another, the American dream is whatever you make it. It is whatever makes you happy in life, or whatever you are striving for.

Freedom. Freedom isn't actually free. Men and women fought for our freedom. To a certain extent I feel we take advantage of our freedoms. We need to appreciate those who helped earn our freedom. I work at Target, and rarely do we get members of the military in the store in uniform. However, when we do I make it one of my priority tasks to thank them for their service before they leave. They have given up so much for our freedom and deserve the recognition that too few people give them.

Tradition. The fourth of July; warm sun beating down on the anxious faces of young children waiting for the nighttime fireworks. People coming together to be extra patriotic for a day. Watching jumbo parade floats go down the road, smelling burgers on the grill, and the sound of fireworks bursting in the air. The general patriotic buzz floating through the air and entering everyone's bodies puts a smile on the faces of many.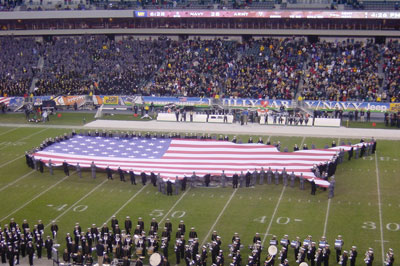 © Kristin B., Middletown, DE