Patriotism, As Americans
October 3, 2017
As Americans, each school day begins when the bell rings. Students of different races, religions, and genders rise from their chairs and face the flag in the corner of the room. They place their hands over their hearts and their eyes wander towards the flag, confirming their patriotism. This represents their commitment, as Americans.
As Americans, we have the ability to work hard and succeed. Innovations grow into businesses. College dropouts become millionaires. America is filled with boundless opportunities and freedoms to be creative. Our success is determined by work ethic and originality, as Americans.
As Americans, polling station queues spill out the doors in November. Although opinions differ, smiles are exchanged and conversations are held. Each person carefully marks their vote. This is a right we receive, as Americans.
As Americans, Sundays are used for worshiping in a church or watching a football game. They are spent with families or with friends. We have the right to devote our Sundays pursuing happiness, whatever that may be, as Americans.
As Americans, July begins with booming fireworks and energizing parades. The commencement of this sizzling month brings grill outs, lake days and red, white, and blue popsicles. This joy of celebrating our liberty and freedom can only be enjoyed, as Americans.
As Americans, we remember those who have fought for our freedoms. We listen to their stories and hold them in our hearts. The freedom we have today did not come for free. We are thankful for our veterans, as Americans.
As Americans, we must respect one another. We live in "one nation under God, indivisible, with liberty and justice for all." Our spirits embrace this country, and our patriotism reflects this. Our sense of community, courage, and choices make our country what it is today. We stand together hand-in-hand, as Americans.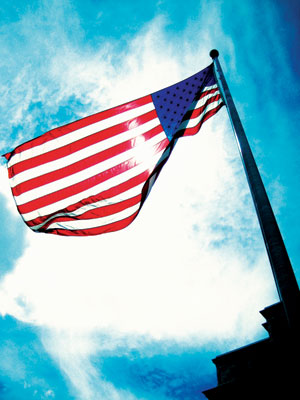 © Seita O., Palatine, IL