To Those We Honor
October 3, 2017
Chorwon, Korea, 1952. Fired at from stable positions, on his own, he rose and silenced a crew and its machine gun, discovered and demolished a secret tunnel, and eradicated two bunkers. His strength and leadership boosted his unit's fight at taking the upper-hand. Medal of Honor recipient: Sgt. Victor H. Espinoza.

Amfreville, France, 1944. Forceful fire from a German troop left his fellow men pinned to the ground for hours. With patriotism on his mind, he proudly stood up and approached the enemy's position alone to destroy lethal machine guns. He sacrificed his life to create one for others. Medal of Honor recipient: Pvt. Joe Gandara.
Washington D.C., 2013. After a taxing battle at Combat Outpost Keating in Afghanistan in 2009, he returned with PTSD. "You see people who would normally seem harmless, they turn into the biggest, meanest bad guy there is, and all you want to do is find ways to defend yourself," he spoke as an advocate for how deleterious his own mind became after the battle. After avoidance, he realized seeking treatment was his only way to heal. Medal of Honor recipient: Staff Sgt. Ty Carter.

Patriotism is how honorable soldiers depict strength in what they've done. For many, this strength includes wounds endured during battle, mental pain suffered afterwards, or other sacrifices made such as missing time spent with family. By receiving treatment, starting over with a new job after honorable discharge, or recovering from injury, strength is required to overcome the struggles. These sacrifices are what defines patriotism. And that's why I give my greatest thanks and respect to those we honor.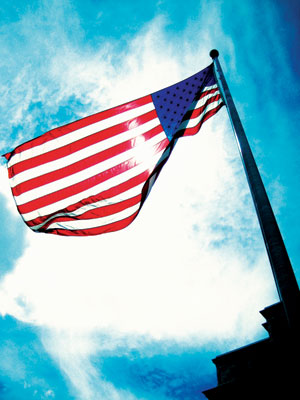 © Seita O., Palatine, IL