Veteran's Day
October 3, 2017
I wake up at 8:30 am and my family walks down to calm, Pewaukee lake. The sun shines down as we scan the horizon for the first puff of smoke. At 9:00 am, the echo of the first launch pounds the shorelines. Seconds later, we hear it: a shocking boom.

One, two, three more launch. The echoes create ripples on the water. There is a brief calm silence and then a watermelon-sized smoke cloud appears. These boomers are lit by the residence around the lake that support their troops. It has been a tradition for 20 years.

At 7:00 pm, my family jumps in the car and drives over to to my grandparents' house. There, I grab tin pans and my grandpa grabs the flares. Slowly and carefully, my grandpa stands up each flare in a tin pan. In minutes we have the shoreline lined with flares.

Once 8:00 comes around, my grandpa blares, "It's game time." One by one, every flare is lit like striking a match. As our flares lit other shorelines are lighting.

The lake is a mirror, reflecting the bright red lit up shoreline all around the lake. The flares lit up the sky with a faint red glow. This view last for 15 minutes until you see the flares slowly dim out and completely die.

Patriotism is the love or devotion for one's country. Veterans Day is a day we use to specifically remember and thank our troops for all of the sacrifices they have made. My grandfather served in the Navy during WWII. He devoted himself to his country and now honors those that do the same by lighting those fares during Veterans Day. I have come to love and appreciate those brave souls and supporting them essential.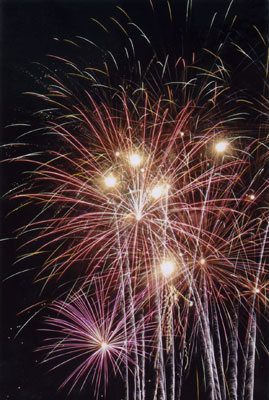 © Michael D., Hawthorne, NY