Patriotism: Bravery, Resiliency and Sacrifice
October 3, 2017
The barren white graves that cover the Arlington Cemetery in Washington D.C. contain the countless untold stories of Americans who gave their lives protecting this country. I could not comprehend the amount of tombs I witnessed and the vast number of brave Americans that died protecting the land of the free. These men and women encapture what it means to be a patriot. They are brave, resilient, and were willing to pay the ultimate sacrifice.

The bravery of these fallen soldiers make America what it is today. Men and women lost their lives in gory and gruesome wars fighting for what they believed in. These soldiers charge into enemy fire to bravely defend our country. Because of their bravery, young teens can pursue the careers they desire, apply to their dream college to acquire an education, and take on leadership roles in order to better our country.
The resiliency of these fallen soldiers make America what it is today. Soldiers fought against devious enemies in unforgiving lands. They continued to battle through experiences that most human beings would crumble under. Because of their resiliency, we explore exotic places with our families, wander through parks and eat a picnic, and live in our homes without fear.
The sacrifice of these fallen soldiers make America what it is today. The patriots who join the military are willing to pay the ultimate sacrifice for our country. They risk death every day they bravely fight. Not only are they willing to sacrifice their lives, but these men and women also sacrifice times with their families and loved ones. Because of their sacrifice, we can host family Christmas and exchange playful presents, go to the football game under the Friday night lights, and drive down the highway with friends, music blaring.
As I live my life, the vision of those white graves remains with me. With everything I do, I think that without the bravery, resiliency, and sacrifice of these fallen Americans, America would not be what it is today. To me, these brave men and women define patriotism.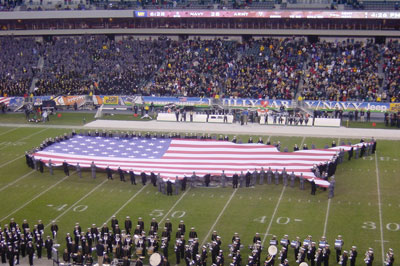 © Kristin B., Middletown, DE