Faking
June 13, 2017
Tired. Not physically tired from the lack of sleep, but rather tired of everything that was being thrown in my daily path. The constant nagging of my parents to focus on my schooling, but at the same time put all my effort and time into extracurricular activities. The constant looks of disapproval from everyone I encounter. Or maybe the fact that I always feel my slowly evolving anguish filling my mind like a helium balloon about to burst. I just wanted to be accepted. I wanted to be treated fairly. Life wasn't fair, but let's be honest; it never was.

I decided to make the best out of poor situations, even if that meant faking it. It was always the easiest option. Just stretch your mouth out like a rubber band, show a cheesy smile, laugh hysterically, and no one will suspect anything is wrong. People always say it's the insides that matter, not the outside, yet we always judge people's feelings based on their outside appearance.

We all try faking it. You know the saying, "Fake it 'til you make it," yet unfortunately, we don't all make it, because we've been faking for too long. We've faked it for so long that we were dragged into the dark and unable to escape. We see the light at the end of the tunnel, yet our feet are glued to the ground, unable to move, so we decide to call out for help, but no one notices. We lose hope and slowly fade away from that little bit of light until all we see is complete and utter darkness and our last breath loom throughout the air and slowly fade into nonexistence.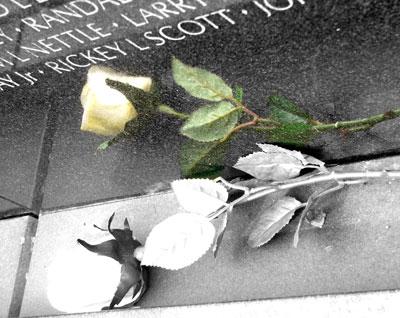 © Kimber E., Yorktown, VA