The Things I Carry
April 17, 2017
The things I carry on a daily basis coincide with the daily tasks that I'm faced with. Before the winter season, I would carry my backpack, which is now over a year old. It's a blue bag that I received while I was in Florida training at one of the most prestigious sports academy in the country, IMG Academy. I still remember having to wake up at 4am to prepare for private lessons I had scheduled, because in those days my one heart's desire was to become the best tennis player this world had ever seen, which I knew would take a lot of work. In the times I wasn't on court or in the gym ,I was walking around campus, taking the tram to and from center campus and the dorms. In the hot and humid Florida weather, I remember how frustrating and tedious it would be to carry all of my items like pool towels, my wallet, speakers, a hat, my phone, and flip flops without some sort of knapsack to "hump" them in. One day, as I was returning to my dorm, one of my roommates, Chad, was showing me how his multimillionaire father had bought him an excess of $95 IMG bookbags and he was trying to give them away. So, after offering him $20 i ended up walking away with one of my very own. This bag has served me faithfully ever since, through all my travels in various airports either by myself or with my family, the bag has continued to be very reliable. Instead of holding shoes or laptops, now my bag holds my school supplies and a can of body spray for a rainy day, need be.
During the winter, and usually all times, I have my go to items which I never leave the house without. My iPhone, my wallet which holds my license and money, the key to my car, some chapstick and Altoids to keep fresh, just in case the occasion comes where I really need them. Although all of those items are on my person at all times: my cracked phone, wallet, and keys are the most crucial. These are all items that have saved my life at one point or another. I remember how hectic this summer was, many adventures in which my phone, car, wallet, or God himself who has saved me from either death or extreme discomfort.

Here's a quick story about my car. One night after returning from a sweet sixteen, my friend and I decide to make a stop at a fast food stop before heading home. Its roughly 12:30 am and not too many people were on the roads, so we are blasting music pretty loudly having a pretty fun conversation about Kanye West's music as I was about to turn into the right lane to get into a Mc'Donalds. As I started to turn my car I felt all of a sudden my hands jerking the steering wheel to the left and after doing that I see a white benz going at the speed of light past us, and after straightening out the the car I pull directly into the gas station on my left and put the car in park to give myself time to process what had just happened. Immediately after parking my friend and I say out loud how god was on our side and freaked as the rush of adrenaline and bewilderment overtook us. We spent another 10 minutes parked, stagnant, still going over what in the hell just happened. As the driver, I did not see this car until it was already in front of us, and I still managed to move the car ahead of time. Had we not moved in time, the small convertible that I drive would have definitely been totalled and I remained in shock for the next few days before finally getting over it.

I have many stories to tell because, for some reason, whenever I go out something extraordinary has to happen, but I guess it's those stories that gives more weight to the things that I carry.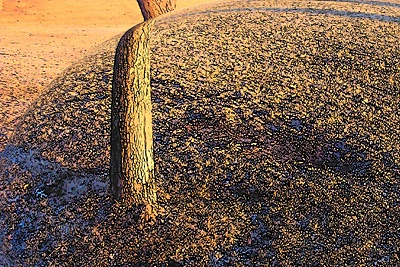 © Benjamin B., Coon Rapids, MN