Combatting Evil and Greed Through Sacrifice
February 3, 2017
The day after the 2016 presidential election our English teacher read us this Gandalf quote: "Some people believe that it is only great power that can hold evil in check. But that is not what I have found. I've found it is the small things, everyday deeds of ordinary folk that keeps the darkness at bay. Simple acts of kindness and love." This was reflected in the actions of my classmates, who arranged a miniature walkout to protest Trump's election. We marched a few blocks up to Rosa Parks school and back, chanting "Love Trumps Hate!" as well as "Not My President!" Everybody from the neighborhood came out and cheered. In spite of Trump's election, I felt encouraged. When we returned, a few students gave cheesy speeches, but they were from the heart. We should remember this quote, because everyday kindness is a great power. However, we need to go a step beyond kindness. The march was nice, but it didn't do enough. We need to do more, by making sacrifices. It is very pressing that we start making sacrifices now, because Donald Trump advocates hatred, racism, misogyny, and xenophobia. However, if we make sacrifices we can survive Trump. Sacrifices are already being made in places like Standing Rock, North Dakota, where the Dakota Access Pipeline (DAPL) is threatening to poison the primary water source of the North Dakota Sioux. One of the financial backers is Donald Trump. We can't quietly sit by and let this happen. It's time for people to start making sacrifices and practicing kindness.

The things that impress society the most are skill, power, fame, and money. Trump doesn't gain followers through his political knowledge. He gains them through his money and fame. However the most influential and impactful act is sacrifice. An example of sacrifice being impactful is the 2,000 veterans who decided to go to Standing Rock and protest the construction of DAPL under the Missouri River. "'I signed up to serve my country and my people and I did that overseas,' Indigenous U.S. Navy veteran Brandee Paisano told the CBC. 'I didn't think I'd have to do it here, on this land, so here I am. This is what I need to be doing.'" His sacrifice, traveling to Standing Rock to help form a human shield around the water protectors, is more influential than skill, power, fame, and money. Most of these veterans are leaving their homes, families, and jobs. They are leaving all they have to protect their country from itself, just as if they were serving in the military again.

Sacrifice combats darkness and greed by demonstrating courage and passion, and it also helps us move forward. The veterans at Standing Rock recognized that there is no future without forgiveness, so they apologized to the Sioux on the behalf of the United States. After the Army Corps of Engineers announcement, denying the easement to drill under the Missouri River, veteran Wes Clark Jr. spoke at a ceremony at Standing Rock: "We came. We fought you. We took your land. We signed treaties that we broke. ... We've hurt you in so many ways. And we've come to say that we are sorry, we are at your service, and we beg for your forgiveness." Although the government hasn't formally apologized to indigenous people, this is still a step forward. It shows that us Americans do feel sorry for what our country has done, that we're seeking reconciliation and that we want to help the indigenous people.

Apologies are made more meaningful when they come from kindness. Bad apologies, like this one from the US government, would be more serious and authentic if they came from kindness. "The US government first officially apologized for slavery and Jim Crow in 2008. According to The Smithsonian magazine, "While the apology was primarily symbolic, by officially recognizing its role in perpetuating the horrors of slavery and Jim Crow, the American government took a step forward in addressing and atoning for one of its greatest wrongs." This apology didn't come from kindness, it came from the government wanting to have better public relations. It was more symbolic and an attempt to show that America recognizes that slavery was inhumane. It wasn't as earnest as Wes Clark Jr.'s apology, who went out to North Dakota and stood between the water protectors and the police. A real apology needs to accompanied by action and not just show people that you don't condone what you've previously done.

Making sacrifices will save our people from Donald Trump. This has been proven by the 2,000 veterans who traveled to Standing Rock, North Dakota and protested the construction of DAPL which threatened the North Dakota Sioux's primary water source. While the veterans formed a human shield around the water protectors, they also apologized to the tribe for all that America had ever done to them. They proved that sacrifice is the most influential and impactful act. If everyone practices kindness, and makes sacrifices, united, we can combat evil and greed.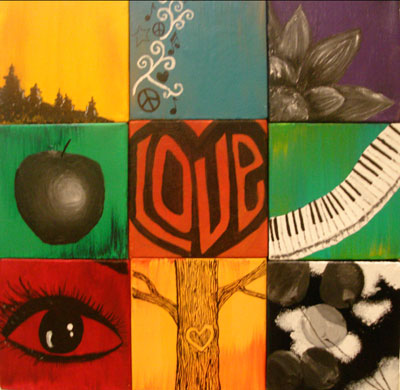 © Christina E., Henderson, NV