Remembering the Forgotten: The Meaning of Memorial Day
September 28, 2016
As I walk towards the front door, I glance back and my eye is drawn to the mantle where a cherry wood display case sits. The case holds an American flag, and has a metal plaque mounted to it with a name. I think of the name inscribed in the metal. The name is of my great-grandpa. I see this case every time I visit my grandparents' house, but today I think of what it means. Today is Memorial Day.
I'm on my way to a parade to remember the lives lost in the name of freedom. The streets are filled with decorated floats, fire trucks, and veterans. The edges of the street are lined with little kids eager for candy thrown from the passing fire trucks. But unfortunately, this doesn't capture what I believe to be the true meaning of Memorial Day. When I was younger, I was there for the candy, oblivious to the solemn hearts around me. But with age, I understand that Memorial Day isn't about a day off of school and celebrating with family. Memorial Day is about the people that have sacrificed their lives in order to make America what it is today.
My family doesn't usually have a special celebration or get-together on Memorial Day, but when asked about what Memorial Day means to me, I think of the people behind the freedoms that we enjoy everyday. I think of the countless lives that were sacrificed for the American dream to be possible.
Memorial Day is about the American flags in display cases all around the country, and the names on the cases. Whether the name is on a case in the basement, on a mantle, lost in the generations, or the name belongs to an unidentified soldier, it is simply about remembering the people lost to war. Because whether we know them or not, if you call yourself an American, these people have given up their lives for you. So on Memorial Day, remember the lives lost.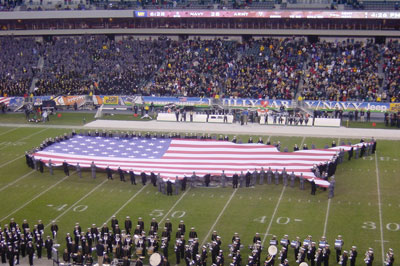 © Kristin B., Middletown, DE