My Unforgettable Experience
September 28, 2016
I wake up to the sun shining, the smell of coffee, and people talking. It's not a typical morning for the Beversdorfs. Today is the most patriotic and triumphant day of the year. Today is Memorial Day and we will be remembering those veterans who lost their lives fighting for the country we love.

In honor of those who fought for our country, my family and I are on our way to the Arlington National Cemetery. We arrive and there are white tombstones as straight as an arrow across the whole cemetery. The smell of fresh cut grass is in the air as it's mowed in a unique pattern. My family and I tour the cemetery looking at how each tombstone is the same.There is a white tombstone with an American flag swaying in the wind by each one. I knew which tombstones were older because of the faded white paint that was chipped and covered with dirt. Some were newer, only a few days old. People, standing with their hands to their forehead, saluting that person for serving and protecting the country that we call home.

We continue towards the top of the cemetery where we see a group of people by a monument and a wreath. Everyone is silent, so silent. My family and I are confused until we find out that the monument was The Tomb of the Unknown Soldier and there is a ceremony going on for someone who lost their life. During this ceremony, there is a song played on the trumpet and a wreath is hung on the tomb. The floral tributes they have at this funeral bespeak both the beauty and the brevity of life and evoke memories of other days. This is what Memorial Day is about, rembering the people who died while serving in the country's armed forces for our freedom and liberty.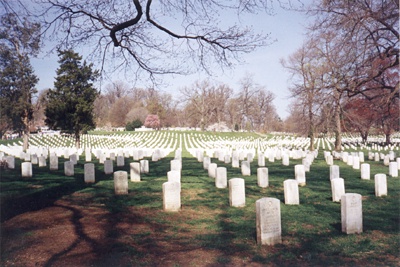 © Steve A., New Port Richey, FL