Our Day of Freedom
September 28, 2016
The smoke on the grill, so thick, almost as if we were firing off old, rusty cannons from the civil war. Being surrounded by family and friends to celebrate the brave souls that gave their lives for ours.  Citizens don't realize the sacrifice and courage that this land was built on and what it takes to be the land of the free.
Sweat dripping down my neck, my Jordan's laced up, and the rock in my hands is my Memorial Day. Being in the same environment that I have been in my entire life. Competitive AAU basketball, where the best teams from New York to Los Angeles come to prove themselves and win championships. Ranging in teams of incredible size and athleticism to the little white suburban boys like myself. Although, every team understands the hours of hard work and dedication needed to compete at the AAU level. Our nation's government and military have the same characteristics. They are the reason we are the greatest nation there is.
Our freedom came from sacrifice. What we choose to do with our time is our right. The right made possible by our government and military. From their days of sliding in puddles of mud, ducking under barbed wire, dodging bullets, and watching friends fall. They hear ammunition day in and night fall, and stare death in the face. This is what our country was built on, sacrifice and determination for the greater good of others.
Memorial Day is a day to reflect the heros that gave their lives in service to protect us, to help make the United States a safer place. Without our past and fallen heroes, we could not wake up in the morning and live our lives freely. The words "thank you" are not enough to thank these brave and selfless individuals.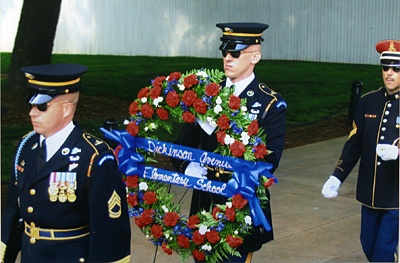 © Alejandra D., Milford, CT