Courage Through a Fight
September 29, 2016
I take a moment of silence, out of respect for the fallen. I see the tears fall, the hugs tightly wrapped to loved ones, and the grave goods to all the soldiers who made us free. As we visit the dense cemetery of my grandfather and others who died at service.
I see family members, and the joy that makes me realizing how blessed we are to be free. Even though I have family in my thoughts, I celebrate the freedom received from their sacrifice. The courage it took, through blood shed and blazing bullets from befar shows me why I honor servicemen and women. From backyard barbeques and smiles of joy to graveyard visits with tears of greed, Memorial Day is about never forget the ultimate sacrifice.
I spend my time with relatives celebrating with popping fireworks that bang leaving my hearing off by the end of the night. As a family, we show our respect for the brave men and women, and what they did for us, by bowing in prayer before we eat our food,"Thank you lord for those who died to make us free." The loss of my grandfather is mentioned, bringing me to tears while I remember his unconditional love towards others. "I can do that," he always said, and his service in the navy during WWII, helping planes take off of aircraft carriers, for this courageous country.
I am around those that I love most, smiling and joyful. The ultimate sacrifice was given by courageous soldiers' for the free to live the self-desired life. If I wasn't happy, I would not be living the life that people, like my grandpa, died on the line for. Hiding the despair of loss and accepting the fact that smiles are what show the most respect for the red, white and blue symbol of freedom.
To one nation under god, for the guts, glory, and grand hearts of the people in this nation. Indivisible, as I stand by everyone in this country, to defend the freedom fought long and hard for. Memorial Day is a moment in time to respect those who fell for freedom, by respecting their bravery and showing our grace.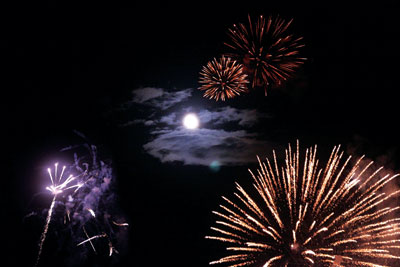 © Meena K., Groton, MA