A Guide to Making Friends: By a Human with Social Anxiety
September 20, 2016
As a person who has social anxiety, I think you should one hundred percent trust me with guiding your social life. So you're going to want to pull up a chair and let me give you some tips on making a couple of new pals.

1. Become more open- The only way to make friends is speaking outwardly towards them. If you think that you're going to make friends by thinking about them, then you're insane. No one will get a telepathic notification saying 'you should become friends with this person', the only way to make a friend is by go up to them and start a conversation. Or like, staring at them for a really long time might help too.

2. Social media- Have you heard of this great thing called the internet yet? It's only been around since the day you were born! Social media is a great way to meet new friends because most teenagers spend all of their time on facebook or tumblr looking at funny cat videos and soldiers surprising their daughters on their birthdays. -WARNING- Don't become friends with the internet. I can guarantee that you aren't going to become your computer's best friend, so why even give it the satisfaction of becoming YOUR best friend. And don't worry, your computer isn't like Becky, it won't be offended when you just use it to make other friends. Damn Becky, such a loser.

3. Become more approachable- If you find that your look is a bit too intimidating or boring then make some minor tweaks. Maybe try chopping off all of your hair or maybe even going Emo for a month! You might even like the new you.

4. Do your best to say "YES!"- If someone asks you to hang out over the weekend, or maybe even go to a party, that's your key to success. It's like a Disney Fastpass, but to popularity. Plus, what's it going to do to you if you say yes? (side note: This does not mean that you should give into peer pressure. If you feel like something is wrong, don't do it, and ask for parental support.)

5. Pretend you're about to go talk to your future best friend- It'll make you ten times friendlier and a thousand times less nervous.

Remember their name- Don't you just hate it when you've been friends with someone for weeks and you can't even remember their name! What was it? Carlene? Charlotte? Saphire? Ugh! This is actually impossible though, because if you've forgotten their name and you've been friends for a month you're a jackass.

6. Don't become friends with the wrong people- Be more of a Harry Potter. If someone comes up to you and makes fun of the nice kid who made conversation with you on the first day of school (or train ride to school), pick the better friend, you should know which one is the better friend.

7. Get over yourself and don't sweat it! Of course you'll make friends! You're a social butterfly! And who wouldn't want to be friends with you, you dapper little flower.

OR

Don't make any friends; who needs those bastards anyways. You're totally better off with your screamo music and black eyeliner anyways!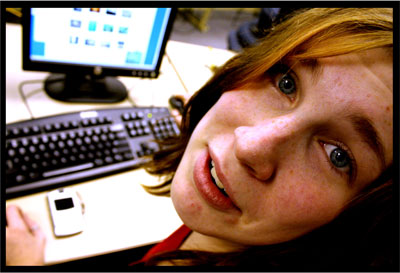 © Sam W., Bellevue, WA