Timeless
July 26, 2016
I felt unaccustomed to the red plaid cloth across my skin and the tie I had clipped around my neck. And once I reached my new school, I found it even harder to breathe in this new environment. As I stepped into the small halls with the red walls, I saw the people I would spend the next 4 years of my life with. At that moment, and for many moments afterwards, I longed to see eyes stare at me. It would have been better than this complete isolation that I felt inside me. So on the first day at a new school, I decided to head on to the library during lunch to see what I could be able to find. I told myself that there was too much sweat on my palms to talk to new people.

At the time, books took up the space up people. My mother and father were both at work, I hadn't met any new people yet, and so I turned to stories to comfort me. But it took a special kind of story to change me. One day, I saw a book with a peculiar glow to it. The cover was ragged, but the title intrigued me: The Secret Garden, with "young reader's edition" written in the corner. After reading it, I found that the book was about a young girl who at first was extremely spoiled and stayed alone amongst her wealth and pride. But when she moves with her uncle, she is forced to see the incredible beauty of one of the gardens in his home, and learn to find and maintain good relationships with other people.

The girl's name was Mary Lennox, and I saw that we were both similar in that we lacked companionship. However, Mary's incredible development throughout the book helped me open my eyes to the problems in my own behavior. My discomfort at my new school had stopped me from taking risks and taking that extra step to meet new people. But I was genuinely inspired by Mary's transformation, and so the next day, with sweaty palms and all, I set out on a mission.

It wasn't until a few years later that I learned the official version of this book had been written in 1911, and I spent some time in shock. "How could Mary and the characters in the book be so similar to me, and the world today? Wasn't this story written about 100 years ago," I thought. How could people be so similar?
I come from a neighborhood where differences are not appreciated. On Tratman Avenue is where all of the Bengalis live, and two blocks ahead is where the Hispanics are. The common "immersion area" is the neighborhood park, The Pearly Gates, but even then parents forbade their children to play with those different from them. At that time, I found it difficult how I could be the slightest bit similar to a character created so long ago, especially since I'm "different" from the people I see today. I could've denied the similarities between people, even over the span of many generations, but I didn't. I picked up the book again. And soon another one. Soon, I fell in love with classic literature, literature that knew no borders. Timeless stories.

Stories such as The Little Princess, A Wrinkle in Time, Anne of Green Gables, Heidi, The Wonderful Wizard of Oz, and so many more helped me realize that people are more similar than different. It helped me break out of my own shell, to become less afraid of what others would think of me. And over time, I began helping others break out of their own shells as well. At the Pearly Gates, I began bringing all of my friends together, regardless of differences. Instead of stepping away from conversations critical of these differences, I added comments on our overlapping issues and the values we all held. As well as building myself up, I became a community builder, and my love for classic literature has not dissolved since.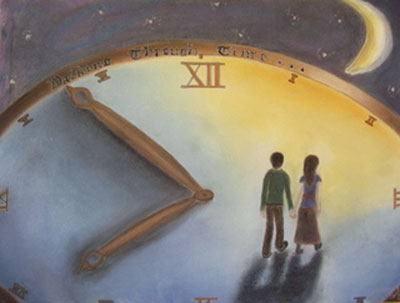 © Carollynn G., Hawthorne, NY