A Dancer's Domain
January 29, 2009
In my lifetime, I have been on many extravaganzas that have affected my life immensely. I have traveled half way around the world to India where most of my family lives. Also, I have had the enjoyment of seeing the Taj Mahal, one of the Seven Wonders of the World. I have climbed up the highest peaks of the Himalaya Mountains twice and have seen two famous temples. In addition, I have seen Italy with all its history, architecture, arts, beauty, and fashion. The city of Rome, especially the Colosseum, beholds the magical Roman history. Just by looking at it, I learn so much. The Italian food is of a unique, mouth-watering nature consisting of various breads, cheeses, and pastas. The bustling Italian cities, Rome, Milan, Florence, and Venice, portray life in such a way that I wouldn't mind sitting down on a bench in Piazza Navona, also known as Navigation Square, or by the grand Trevi Fountain and watching the surrounding Italian way of life. Lying on a rolling hill of the Tuscan Valley landscape and being submerged in the serene environment and never ending sky blue clouds would be just as enjoyable. However, one of the best times of my life have been at the beach watching the setting sun casting silhouettes of my family when everything seemed perfect. Though I have had entertaining experiences at all of these places, is there really that one special place in the entire world where I truly have had a positive experience? The answer is yes!

Ever since I was a toddler, my mom wanted me to do some type of dance, but I didn't want to do the usual tap, ballet, and jazz. Obviously, being a fan of the performing arts, I didn't have anything against those dances. They just weren't the arts I was supposed to do. No, they weren't. Let's just say that fate had its own plan for me.

At age six, my family moved to Memphis, TN. I was starting that first grade, and I knew that if I was going to do a dance I would have to start. It was a coincidence that we heard about a teacher that taught Bharatanatyam , an Indian classical dance. I was very excited because I had seen a Bharatanatyam performance before. I had somewhat of an idea of what Bharatanatyam would be like. When my mom told me, I remember thinking that this was definitely different. The teacher apparently held classes at her house. When I entered her house, I looked to my right and saw the big wooden dance floor. I stepped onto it, nervous since all of it was new to me, and I felt a spark. It was something different, and it felt good. Now when I think about that good feeling, I realize that it gave me a sense of belonging as if this was it. This is where I belonged.

Though just an enjoyment, dance became a big part of my life. It was this after school activity that I looked forward to once a week. Dance was fun, and every time I stepped on that wooden floor I felt the spark. About a year after starting Bharatanatyam, I enrolled in ballet and tap. I went along with it for two years because it gave me a good foundation and flexibility, but it wasn't the need that Bharatanatyam had become. Also, I wanted to do more Bharatanatyam. I began going twice a week, and it only motivated me to do more.

My aspect of dance began to change last year. Not only was I learning more advanced and longer dances, but also I had started thinking about my arangetram. An arangetram is a solo debut performance during which an artist performs about ten dances. It is about three hours long. The preparation is a long process because the artist has to have ever-lasting stamina and physical strength. In June of 2008, I became more serious about my dance. I went to dance class everyday for two hours, and let me tell you one thing. It wasn't easy! I started out at the beginning of the month very energetic, but I began doubting my decision of following through with this performance. I was learning the most important piece of my recital. Not only was it thirty minutes long, but also it was also very complicated because I had to pay attention to the sequence, beats, rhythms, bending, hands, body balance, and expressions. It seemed as if this was going to take up all of my time, and I would never have time for myself. After all, it was summer, and while all my friends seemed to be enjoying their vacation, I was occupied with dance, dance, and more dance.

During the summer, I took a vacation to Italy. The funny thing was that I started missing dance. I felt empty as though something was missing. I found myself thinking about my dance moves in the shower. While enjoying an evening opera program, I would think, 'What if I just started dancing?' When we were waiting, my feet would start moving like they did in dance class. In the hotel room, I would practice bending while combing my hair. It was these funny incidents that made me realize that I missed it. I missed dance. I loved Italy, too, but I missed breathing dance. I had left it, and it was calling me like a luring lullaby. I was reminded of my dance class and the wooden floor where I belonged.

When I came back to the States and went to class I was both ecstatic and anxious. I entered my guru's, or teacher's, home. I stepped on the wooden floor, and there it was again. The same feeling that I had missed for the ten days. I felt like I could breath again. In actuality, it was short, but man! It was eternity to me. I started dancing to the rhythmic beats, and I was back in my element. This dance floor was my personal domain. I ruled here, ad I had total control. No one was here to judge me, and there were no expectations to be fulfilled. When I step on this floor, I leave everything behind. I am all mind, body, and soul. There is no sadness, stress, or nervousness. I feel rejuvenated. From the moment I step in my domain to the moment I stop dancing, all seems perfect. This may sound peculiar, but just like any other queen; I seem to have a strong attachment to my kingdom.

I have learned so many things in my dance domain. I have learned to perform solo in front of thousands of people. I have become more confident and outgoing. Even in dance, I have had hard times when learning a hard step or not doing a step right, but I have learned to over come these challenges. In life, there are ups and downs, but my domain washes away all worries. I have learned more about my culture through the expression-oriented items that portray a story about the Hindu gods and goddesses. Dance brings more life to me. I would definitely be a different person without dance. Dance makes me look forward to a new day. It persuades me to stay positive in life because if someone has a positive attitude he or she can overcome anything and lead a flamboyant life. Martha Graham once said, 'Dance is the hidden language of the soul.' I fully believe in this. I express my thoughts and emotions through my dance and body language on that wooden floor. Therefore, no matter if I'm half way across the world or just six hours away, my place of belonging will be that room with that wooden floor. Oh, and nevertheless, almost eight years later, I still feel that spark of adrenaline that makes me want to just dance.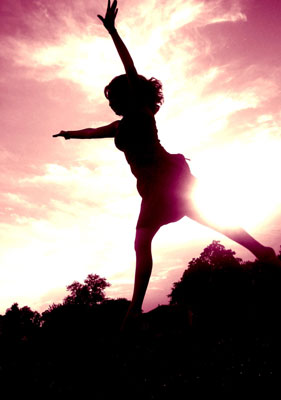 © Martha V., Morton Grove, IL