Social Status: Zero
December 30, 2008
Either you're a geek or a slacker, you're a druggie or a prep.. Either you're into sports, or clubs, or a teacher's pet.
Me? I'm the weird one; I don't fit into any one specific group. I play every sport, and I'm in just about every club I can join from volleyball to dance, from band to student council, and from FCA to science club (just to name a few). I also try my best in my academic classes and usually maintain an A- or B average, but it'd probably be even better if I didn't slack off every now and again, especially in math! I'm not a druggie, but I don't have a problem with people who are as long as they respect my wishes to keep it away from me.
Because of this I don't really "belong" anywhere.. My friends come from different groups and they sometimes don't like one another, so I can't really hang out with them all at once or they fight. Many times I'm "left out of the loop" because I spend my free time with family or I'm busy trying to keep up with everyone who's going their separate ways. Some people think that I don't have many friends because i don't hang out with them on the weekends, but I actually have a lot of friends, however it's hard to stay close to them when your friends aren't all in the same "circle of friends."
But I'm not complaining.. Yeah, sure I might get a giant zero on the social status scale compared to most teenagers, but I think people who are only friends with others that are in their same group are missing out on so much! They're living in a fantasy world and could possibly be oblivious to the real world even as adults.
The truth of the matter is our world is full of many different people with different beliefs and different talents. If we would just take the time to actually get to know one another, we'd find more to people then what meets the eye and, just maybe, we could all be friends.. If there was no mean name calling, no fist fighting, no gang fighting, no shooting, no bombing, then there would be NO WAR.. What if we were all friends? A simple hello and a smile instead of hate? Maybe then we would finally have the world peace we're always hoping for.
But hey, what do I know? After all, I'm only a stupid teenage girl with a social status of zero!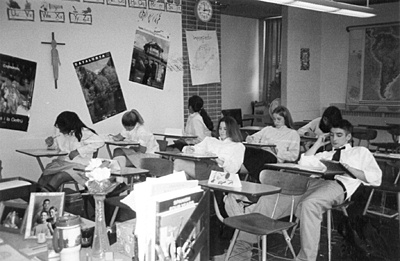 © Fox V., Whitesboro, NY