The Chair
December 18, 2008
As a third grader living in Connecticut, there was a chair that simply was my favorite chair. It was one of those young obsessions, subtle yet dear. I thought of it of as a gigantic object, at least relative to my small and naïve self. Little things about the chair made it special for me. In first grade, I spilled neon orange paint on the white fabric marked with green vines. My mom wasn't too thrilled about this, and had tried to remove the stain, but to no avail. At the time, I hadn't recognized the chair as anything out of the ordinary and I was upset that such a blemished item had to remain in my room, where only things as wonderful as me could reside. That was how my first grade mind contemplated the situation.
A couple years later, I came to love that orange spot; actually, I came to love the chair as a whole. I was relishing the new fact that I could read chapter books, longer than any other book I had ever attempted to lay an eye on. Sitting in the chair with my legs hanging over one of the arms with my feet resting against the cold, sometimes frigid, glass on the adjacent window, I felt significant, not quite so little in such a huge world. It became sort of a security blanket, providing a sanctuary when I was disappointed, sad, or merely having an off day.

When the dreaded time came to move across the country after the fourth grade, I was excited that my chair was going to move with my family. I was even okay with the upholstery being changed to match the furnishings in my new home. Though the orange mark wasn't something that bothered me in the least, its importance had waned. My real interest was in the chair itself.

The chair assumed its rightful place in my bedroom when I officially moved in. At first its value to me remained constant. Though there were many circumstances in fifth grade when I could have otherwise taken solace sitting in the chair, I found other nooks where I made myself comfortable. My reading became a hobby as opposed an excuse to sit in the chair. Over time, I plainly forgot about something I once had so juvenilely cherished.

Sometimes friends and other people in one's life can relate to my story about the chair. Certain companions come and go, yet they can still affect the life of the one they were once close to. Other friends contradict this statement, those who are steadfast and supportive no matter what occurs. These are the friends I treasure most. During my high school years and beyond, I hope to make many more friends, not ones like my chair, who will fade when I have changed and they have stayed the same, but those grow and mature with me.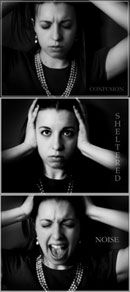 © Michelle B., Blairsville, GA