Just Thoughts
March 4, 2015
It's ridiculous, I'll say that much.
As humans and people and individuals in society, we've begun to revolved around ourselves and fight for places that don't even matter. Who cuts the most? Who tried to take their own life first? How many psychiatrist visits have you had? How hard metal/emo is your music? Do you wear black? How corrupted is your family?
This immature redundancy is sickening to behold. I am unsure why, but the coming-forth generation has spiraled so far down that I haven't the slightest where to begin an attempt of reversal. Maybe it was always supposed to end up like this, or maybe none of it is real at all, and my teenage impulsive brain is making up excuses for society. Either way, something's wrong.
I'm so confused.
All I know is that there are people who aren't trustable, people who are doing things all wrong, whether they think so or not. Most of the adults I meet are semi-okay with being nice, but still some are greatly uneducated and shockingly heartless. I'm not sure why my generation seems different. Perhaps it was assemblies or television shows we watched, or the internet, or some large factor that has been known to have permanently-affected the kids of the 2000's…
On an off-topic note, why was I chosen for this era rather than another? I feel as if I need to do something. But I'm not sure what that thing is. I'm questioning everyone's judgement. And I'm scared. I feel alone, but I'm not as ignorant to assume that I'm the only one going through all this--because I'm around people everyday who think the same things.
I miss people and things and emotions.
Anyway, back on subject. Wow, my brain wanders.
People seem to be fighting to be different just for the sake of being different. This wouldn't bother me much, except kids are taking to the extreme of denying themselves happiness, and other things they want/need, to get there. Everyone is quarreling to be the rebel, the outcast, the dark and mysterious one in the crowd. It pisses me off so much how people don't get it--there really are people struggling with legitimate problems like this, and I'm not saying your problems aren't real, I'm just saying that some people actually have these disorders to hate themselves or lack emotion or whatever. It disgusts me when someone tries to have the disorders, for whatever reason. You were blessed without it. Go find yourself in something great, somewhere else. You don't want it as much as you think you do.

At the same time, I understand it. I know how it feels to desperately need to cuddle, or to be dying for someone to talk to. But when I really think about it, I can't be angry at everyone else, nor at myself(which I constantly am, anyway, props to how I grew up and my life accomplishments)--because all this won't mean anything in the end, and this time of life is all you've got to make these important decisions, and if you believe in a heaven, great--that gives you something. But what about those who don't?
I've realized something after wrestling with this concept for so many years. Something that I still forget, every single day, when I get around people I trust, people I know have the ability to help me with my problems. I know people hate hearing it, and I know it's the cheesiest of sayings, and I am fully aware that those "rebels" will read this and not listen, because that's simply what they do--bash everything that isn't exactly what they want to hear…
But seriously. The best thing you can do for anyone, especially yourself, is to be nice and kind to others. I don't care how ugly they are, I don't care if they've done drugs, or drink alcohol excessively, or hate your favorite sports team. This isn't a hippy-peace speech. Just love everyone, and show everyone that they matter, because whether you like it or not, they matter a lot. Everyone has a purpose on this earth, and some of us just haven't found it yet. The best thing you can do is to keep yourself happy, keep everyone else happy, and put yourself above that level of things everyone is put down for, like lost respect, sucking at sports/art, taste in music or clothes, calorie intake, total losses/miserable experiences, size difference, personality difference, culture, et cetra... I know you're all better than that.
But lastly, finally--you make your own happiness. Remember that.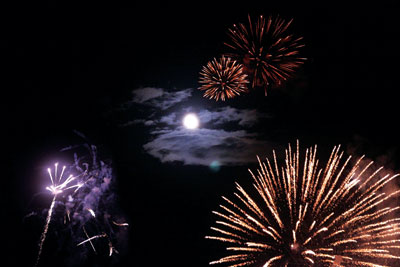 © Meena K., Groton, MA