Doing the Right Thing
October 17, 2014
What does standing up for what you believe in feel like?
Imagine that there's a hurricane coming at a village full of the people you love and some that you hardly know. You're the only one who sees the problem. Whenever you talk about it, no one seems to notice, or maybe they're not as passionate about the issue as they are. The storm gets bigger and bigger. You get more and more worried. Sometimes, you talk about trying to evacuate. Some people are with you, but others seem not to care. And then something happens. It can be anything from the snapping of the first tree, or you feel the drops of rain on your face. That's when you take action. You go around town, begging people to understand that the storm will destroy them. Somehow, they don't see how it's a problem. Maybe they're just visiting from a town that won't be effected. Although some people will see the hurricane right away, others will take longer.
Suddenly, the storm is on the town. The worst of it happens. Nearly everyone picks a side: not to care, or to care. You know how to fight this hurricane, so you do. All you can do is start screaming and hope that the air from your lungs is powerful enough to push the hurricane in the other direction. Some people join in on the hurricane. Some people laugh at you for trying.
The hurricane? That's what you fight against.
The more contradicted you are, the bigger the storm gets.
In the end, when you turn around, you realize that your efforts have destroyed you. Win or lose, something will be different. Maybe the town will be flattened. Maybe it's a few houses. However, a hurricane never leaves things peacefully.
The suffering, the loss, the pain, and the hopelessness is what it feels like to stand up for your beliefs.
Hurricanes are named after people for a reason: no one can destroy you better than someone who knows what it's like to be human.
But the difference, what people take from your actions, is what makes it all worthwhile in the end.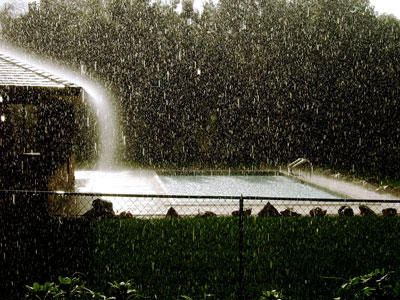 © Chelsea C., Auburndale, FL