Colors of My Soul
September 25, 2013
My soul is like a rainbow. Each emotion sending off different shades of colors, in all different directions.
When I'm angry or embarrassed, my body is overwhelmed with heat and my cheeks flush with a light shade of red.
When I'm sick, my body becomes cold and my skin looses its warm colors and I become very pale.
When I'm sad, a large black cloud floats over top of everything else.
Though most of my emotions don't show as easily through out myself, you can always tell what someone's colors are by looking at the skin, in their eyes, in their souls.
My soul is like a rainbow, it may not lead you to a pot of gold, but it'll overwhelm you and you'll be sucked into a world must different, distant, and colorful then your own.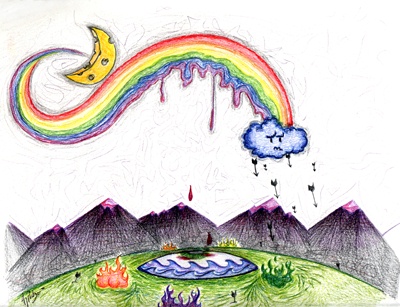 © Alexa P., Ridgeway, PA