Have you accepted yourself?
August 24, 2013
Recently, I have been doing some reading and one of the books that really caught my attention would be Failure: The Back Door to Success by Erwin W. Lutzer. In this book, he talked about the harsh reality of failure and how we can turn each failure that comes our way into a launching pad for success. But as I approached Chapter 7 which was entitled The Foundation of Self-Acceptance, I came across the lesson of self-acceptance and thought that it would be interesting to share it with all of you out there.

I knew that this was the very lesson I needed to hear from somebody else, apart from parents and siblings. This is due to the fact that I always felt dissatisfied with the way I looked, how much I weighed, how capable I was physically, mentally, and socially. Even as a kid who grew up in a fine Christian home, I always felt inferior as I witnessed scrawny-looking models gracing the covers of magazines and walking down the runways on a day to day basis, or my friends who were better than me in so many ways. It reached to a point where almost no amount of persuasion can convince me to feel otherwise.

However, upon reading this book, I found that Lutzer seems to have the right solution to this issue that I was facing. He wrote a pretty long excerpt so I am just going sum them up in three salient points.

Firstly, he pointed out that the act of feeling dissatisfied with ourselves is a sin. Whenever we feel that way, it only translates into the fact that we are denying what God has given us. As a matter of fact, we should thank Him for the way He made us. Apart from being grateful, we need to believe that we are unique and distinct in our own ways. You will never see yourself being remanufactured again. It is really as simple as that!

Secondly, it is important to note that God created us less than perfect so that we would learn to how to cherish the inward more than the outward. The inner qualities that we have hold much greater value than how we look on the outside. We should look at our imperfections as a reminder that God is most concerned with how our heart looks.

Last but not least, we are made with what I personally call 'perfect limitations' sometimes because God is trying to teach us to lean on Him. I call the incapability of ours a perfect limitation because when we have them, we would learn to find perfection in the Lord – He will complete us when we seek Him. It really daunt on me that if we were all made flawless, you and I wouldn't need a God to lean on. Without Him in the picture, we would most probably take pride in ourselves and very much engage in some serious 'loving ourselves self-centeredly' actions. With much certitude, the popularity, lovability factor and self-pleasure would come our way and eventually get into us while we drift away from our Creator. So, how should we respond when God equips us with abilities? Well, undeniably, we should accept them and at the same time give Him credit. Giving him credit would means that we are acknowledging Him as the source of our achievements and not overestimating the importance of our abilities.

I admit that it is going to take some time for me to fully apply everything that I have learned. Nonetheless, I am thrilled to have taken this first step of picking up this lesson of accepting my limitations and abilities, understanding His role in my life, and fully depending on Him. Finally, I hope this lesson would be a blessing to you just as it was to me.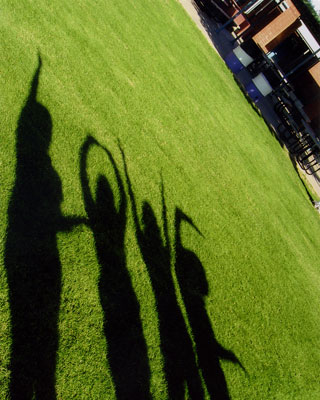 © Lindsay - Elese G., Phoenix, AZ