Letter to the World
September 24, 2008
Only God has the words to describe my love for you.
Its not an infatuation but a childish crush;
Passionate, endless and simple
But nothing you have can lure me,
Lure me, into your sinful and selfish ways.

I see through your glorious eyes to your cold soul
You smirk at me as if to mock me.
Though you fed me, clothed me and raised me from
birth, I have no respect for you.

Your ways disgust me, your attitude annoys me and
your morals make me scorn your well-being.
Your intelligence is captivated with arrogance, a fragrance of a deceiver, a conceiver of a hidden truth.

Your presence is a cyst in my eye.
I'd rather be dead than have you claim me.

Though I feel all this satisfying dislike towards you,
All I know is to love you.
As this may be true, so is my fetish to make you miserable

I laugh a laugh of insanity thinking
about your end and feel no
remorse...So fear on! For my creator
is soon here to destroy you.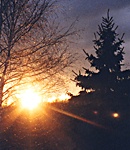 © Christy S., Germantown, NY