A Total Stud
MAG
July 2, 2013
My first day at Gap was a six-hour training shift. Of course, I was expecting it to be paperwork, training videos, and a tour of the store. I arrived ten minutes early; I'm always early to work and appointments.

I was led to the back room and instructed to sit at a large table. I sat there waiting, introducing myself to the women working the early shipment shift, laughing at their jokes that I was still asleep, when in fact I'm just a quiet creature in the morning.

After a few minutes one of the managers explained that I couldn't keep my nose piercing. This was the same manager who interviewed me in person less than a week ago. I was bewildered and could feel a lump rising in my throat. She told me I could cover it up for now, but it had to come out. I sat there thinking of ways I could get around the policy.

Two girls who were also new hires came in and sat at the table. We got our forms to fill out and the manager made sure we understood everything. We went over the harassment policy – zero means zero – and the dress code. As I read through the dress code, I found many inconsistencies. Tattoos on the wrist were fine, and clear tongue piercings could be worn on shift. But clear nose studs were not acceptable.

For the next three hours we watched videos on how Gap works: how to ring up a sale, greet customers, clean up, and everything we would need to know to be paid. As I sat there, I decided that night I would buy a clear nose stud. I was only planning on working at Gap until school started. Was it worth it to have the hole close up for two months then get it pierced again? No. So, my plan was to get a clear stud and start wearing coverup.

I'm left wondering why nose piercings are considered so bad. Is it because we associate them with kids who want "T*ts and bras, ménage à trois, sex in expensive cars"? Now, don't get me wrong – I love the song "Hypnotize" – but it seems as though we are still associating nose studs with punks and kids who are bound for jail. It is not the '90s anymore. We are more than a decade away from those styles. There is no correlation between nose piercings and incarceration. In fact, many of the news stories I see don't even mention nose piercings when they talk about murderers and robbers.

It is funny, though. We have so many policies against discrimination in the workplace. In fact, one of the managers said he loved that Gap was founded on the idea of zero discrimination. But aren't I being discriminated against because of a little piece of metal in my face? Of course, it was my decision to get the piercing. But I love my nose stud. I feel like it's just right for me. It is almost a part of me. Maybe because it's a material item I don't really need, I should just take it out. But who has ever heard of a teenager following rules that restrict them?

I hope that new generations will be taught that tattoos and piercings are okay. They don't need to think a piercing is beautiful, but they should be taught that it is none of their business. People choose to express themselves in many different ways, so why can't we accept body art as just another form of self-expression?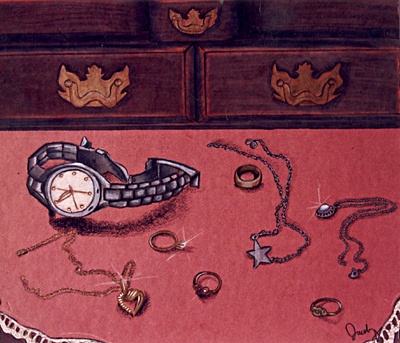 © Jacob S., Kannapolis, NC