Unique ADs- eradicating child abuse or exploiting pester power
June 6, 2013
In this competitive society, one way a business can survive is by marketing. Sure, most consumers focus their attention on the product itself, but the marketing schemes the company employs is something that cannot be ignored. There is a fierce competition among companies to promote their product in the most creative and efficient way possible- the advertisements we see every day is a solid testament to this notion. But advertisements are not only adapted by business enterprises. Nonprofit organizations nowadays channel their energy into creating advertisements- to promote their cause through better methods.

One advertisement that caught my eye recently on the internet was an advertisement by ANAR (Aid to children and adolescents at risk foundation). ANAR is a Spanish nonprofit organization that aims to protect the youth, by providing housing and confidential consultation. ANAR works to promote children's rights and welfare. Like I mentioned above, ANAR received a lot of attention on the internet through its ingenious advertisement. While designing the ad, ANAR pondered the question- "How can we get our message across, even when they are accompanied by an adult?". Worded differently, "How can we get our message across, even when they are accompanied by their aggressor?" To solve these questions, they designed an advertisement with a hidden meaning: a meaning that only the child, or the victim, could notice.

ANAR successfully created an advertisement that could be viewed differently by the adult and the child. The advertisement made use of a lenticular top layer so that two distinct images could be formed based on the angle it was seen from. When viewed from the height of an average adult, the pictures displays an image of a sad looking boy. But when viewed from the height of an average child aged to 10, we can see a picture of the same boy- but bruised with a bleeding lip. Along with the picture, the advertisement presents a telephone number with an assuring message- "If somebody hurts you, phone us and we will help you." This is of course, not seen by the adult, in which case the child can call for help without the aggressor knowing.

This advertisement is one of the most brilliant marketing schemes I have seen till today. What warms my heart that is that it was created for a good purpose. The advertisement has succeeded in viewing the world from the child's point of view- quite literally. It is certainly an excellent way of creating awareness and a fair warning to all child oppressors out there- the advertisement shows a warning preserved just for the adults: "Sometimes, child abuse is only visible to the child suffering it." This advertisement proves this premise correct- no words would do justice to describe the helpful effect it will no doubt have.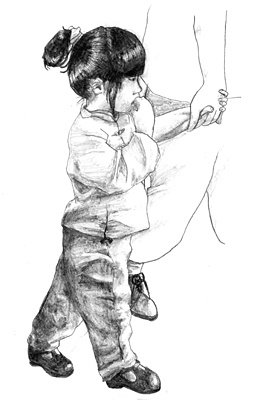 © Laura K., Kendal Park, NJ