Lucy H.
April 2, 2013
I walk into the Lucy Hurlin Theater with a backpack that is heavier than usual on my back and some form of an instrument in my hand. I throw all my stuff into an awaiting blue seat, as I do every day. I inhale deeply, and feel the smell of the theatre sink through my lungs and veins. The good old LHT; with its wood paneling, blue/green carpeting, black stage that's layered with years of paint, old musky travelers, and 204 seats (half of them broken) awaits for me today as it does every day. I spend a majority of my time in this theatre, probably more time than I spend in my own bedroom. I decide to visit the old girl and walk around a bit.

I move towards the top of the steps and pace towards the tech booth. As I stand in front of the reflective glass on the booth, I am reminded of my first play in this theatre – Macbeth. The three of us witches would stand at the top of these steps with a great deal of anticipation to scamper down and leap onto the stage for one of our horrifying entrances. I was taken back to that play, with our hours of applying makeup and our attempts to portray a story about anger and the result of war. Even standing on the steps takes me back to that time period. I can nearly hear the staves rattle backstage and smell the hot barbecue chicken pizza being brought through the cafeteria. I was a freshman then, so I naturally didn't understand the history or power the walls of the LHT held. Questions I asked when I was younger like "Why have people painted their names in the tech closets? Why do people STAY here before rehearsal starts?" actually make me laugh to myself now. It's only been a year, and this theatre has already changed me significantly since then.

I stroll to the bottom of the steps and get up on the stage. I stand on the down stage left corner and look into the audience, and I am instantly taken back to Wit. Wit was my second play in the LHT, and my first festival experience. My part in the show required me to come onstage twice and speak tons of profound gibberish that I still don't understand. I had to be on stage left down center for the first time I was onstage for that play, which was what took me immediately back. Being in that play, I experienced the most stress I ever had in my entire life at that point, thought the most about metaphysical stuff and got very close to a lot of different people. I always giggle to myself as I remember all the ridiculous drawings, expressions and conversations that my fellow cast members and I would do backstage to entertain ourselves as the show progressed. I think that my Wit experience matured me the most as an actress and a person up until that point. I can almost feel the blinding lights on my face and the adrenalin pump through my veins as I stand on that spot and remember Wit.

I move towards backstage right, and walk behind the old, heavy black travelers. The lights that are mounted to random objects allow the blue light to illuminate everything backstage, including the dimmer pack that needs a fan on it at all times (so it won't overheat). I am immediately taken back to the musical Little Women, because this is the area that I stage managed for that show. I ended up helping with the technical aspect of that show, even though I thought back then that I would just act my whole high school career. It turned out to be a wonderful experience. I never knew before then that it's quite rewarding to have people depend on me for things that the audience doesn't know I am doing. I remember that I would constantly check my list of "things to do" and would let myself get so nervous that I would mess something up. I made friends with a lot of upperclassmen, and I knew I would never forget those friendships or experiences. As a lot of those friends graduated and moved on from ConVal, I remember I felt the idea of growing up and taking responsibility for one's future for the first time, and how scary that is.

I begin to miss my friends and the times we had during that show, so I saunter to backstage left. There is a blue light backstage left as well, but there are fewer objects for the light to bounce off of. I stare at the prop table, and I am taken back to the summer performance of Much Ado About Nothing. This show was a Project Shakespeare performance, and didn't have Much To Do (haha, joke) with ConVal, except for the use of the LHT. This was the table that held all of our intricately designed masks for the dance scene of the show. That show had very few props, and I think it taught me to relax about the technical aspect of theatre. It also taught me to relax with my acting and work ethic. The lazy, hot summer days allowed me to do anything I wished, and I chose to work on my role in that show. Without the pressure of school, extracurricular activities or limited time, I was free to find my character in a natural way. That show taught me to be more relaxed (compared to where I was) with doing my job and playing my part in theatre.

I meander to upstage left, and face where the audience would be. As I stand there, I am reminded of the beginning of my sophomore year and participating in the Broadway Review. Where I am standing was where the beginning of the sidewalk started. At that point, I was very stressed with all my extracurricular activities. In that show, I didn't have a very big role. It was nice to step back and let others carry the weight that I usually had. As I stand in that spot, I am also reminded of building the set for the Broadway Review. I made so many new friends throughout that whole process. Through tears, ripped costumes, vent sessions and splattered paint, I was reminded again why the stress of theatre is worth it every time.

From where I'm standing, I walk to center stage. I am taken back to Parfumerie, a show that I participated in when I was really stressed out in my "outside life". For this show, I had to carry much of the weight on my shoulders (through my acting). I didn't realize how exhausted it (and everything else) made me until after it was over. I am a much stronger actress now because of that experience, and I know how to improvise really well. I am at least grateful for those lessons.

There is a rustling outside the theatre, and my thoughts are interrupted as I jump down from the stage and run to the house left door. I open the door, but don't see anything in particular. As I close the door, I am taken back to A Christmas Carol. It was also a Project Shakespeare performance, and had just one show in the good old LHT. I had at least six little roles in that show, and at one point my character had to walk along the side, off the stage and up the center aisle. That was probably the resolving point in my extreme-stressed-out phase, and I truly felt that A Christmas Carol in the LHT was a blessing and a reward.

To try to escape my growing thoughts as they become more condescending, I hop back up on stage and wander to center stage right. I am instantly reminded of the Women of Lockerbie. This was the play that I had my first lead role, as a woman named Maddie Livingston who lost her son in the Pan Am 103 terrorist attack. I honestly cried more on that stage in rehearsals more than I had anywhere else from exploring feelings of grief, hopelessness and loss. I learned so much about myself as an actor, writer and thinker by participating in this show. I learned how much of a method actor I am, and I figured out healthier ways of getting into character and breaking character. I experienced and portrayed things a 16 year old girl should never know how to even feel, never mind share with an audience. Most of all, I learned how to take pride in my work and appreciate the effort I put into certain things. This play made me see certain aspects of my "outside" life in a different light. I figured out my priorities and discovered where my true loyalty was – in the arts programs. That was a lesson that I'm not sure I could have learned anywhere else as fast as I did. I also was blessed with another gift throughout the process of that show – a wonderful cast. In this play, I had the privilege to work with the best group of people I have ever done a show with. They were all hard working, excited and willing to put on a show that made everyone on the audience cry, reflect and think about their lives. In the end, every single cast and crew member of The Women of Lockerbie reached a new point in their experiences and high school careers – we all learned to never forget tragedy and to allow and help each other to heal in times of sorrow and hopelessness.

I reflect once again on the power of the LHT. I can simply walk around this theatre and be transported to different places and time periods in my life by the memories. These four walls (even though they are covered in plastic wood paneling) contain a large amount of my life, and I can physically see my maturation points through the shows I have participated in. I have cried, slept, thrown temper tantrums, ran, injured myself, injured others, painted, kicked, screamed, laughed, raged, panted, fell, rolled, fought, lifted heavy things, sang, danced, talked, built and (of course) acted my way through my high school career so far in that theatre. I have learned more about life and myself than I could have pretty much anywhere else. I now understand why people paint their names in the tech closets and stay after school until their rehearsals. And as Ben, the student technical director, turns on the lights and says, "Heeeyyy, ready for rehearsal?" in his usual upbeat tone, I smile and appreciate how lucky I am to have such a wonderful theatre holding my life in it. As a senior who participated in the ConVal Drama program last year said, "Love the LHT, and she will love you back." And I do. All of us ConVal theatre kids do.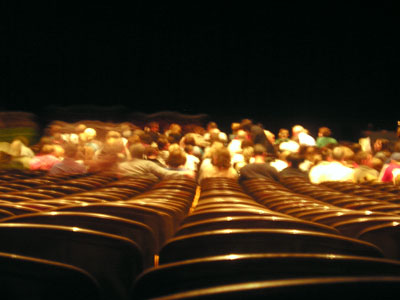 © Jessica P., Bethel Park, PA