Mrs. Andrews
February 21, 2013
Of all the teachers I've had throughout my 10 years of school, Mrs. Tonya Andrews has been the best of them all. Whether it's her kind and humorous personality or the way she makes every lesson unique and easy to understand, she is truly the best teacher I have ever had. Mrs. Andrews is a very effective and memorable instructor. I have yet to find a classmate who disagrees with me. She is a perfect example of a happy medium, because she is not too strict on her students and she can also keep control of her classroom for an effective working environment.

I believe that, if it wasn't for Mrs. Andrews, I wouldn't have as good of an understanding of algebra and geometry as I do. The thing I love most about Mrs. Andrews is that she has a better understanding of how teenage minds work than most other teachers. She is able to communicate the lesson to us more effectively because of this. For example, she doesn't just give us a book and a page number and expect us to magically know how to do the lesson. She takes the time to sit down with us each day and thoroughly explain the lesson in easy to follow steps. She also gives us "pop quizzes" almost every day. This routine is very smart, because this insures that if we want to pass the quiz, we must have a full understanding of the current section. Otherwise, we would probably forget it, only remember it again long enough to take the test, and then it's gone forever. Mrs. Andrews does give us homework every day, but that's okay because she takes the time the following day to answer any questions we may have. She also provides tutoring almost every morning and afternoon for those who need extra help. I love going to tutoring because she sits with me one on one and explains anything I don't understand.

Even if Mrs. Andrews has morning duty in the commons area and she can't be in her classroom for tutoring, she invites anyone who needs to, to come and find her with any homework questions. I love Mrs. Andrew's school spirit too. On any pep-rally Friday, she can be found wearing either our school colors or a spirit-themed outfit. She even sewed her own black and gold vest with trumpets, drums, and the letters CHS for Cleburne High School. Outside of school, Mrs. Andrews used to tutor kids in, "the minority group". This just shows how she loves to educate all young minds.

Mrs. Andrews has a very big heart. One time I stayed after school for tutoring and after I was done with my work, I said that I would probably be walking home. She didn't waste any time offering me a ride home. It was a very nice thing for her to do for just a student. She told me that a few months ago; she was talking to a teacher who was afraid of a certain student. The student she was referring to was rather large and yet very quiet. Mrs. Andrews was lucky because she offered to take him home one day and discovered that he was fluent in French! She never expected that, but she never would've known if she wasn't so nice to him.
In my class specifically, she is constantly telling us that she loves having our class first thing in the morning. Sometimes we are a little loud, but when she is teaching a lesson, we are respectful and attentive. There is usually one person who just can't fully comprehend the lesson and Mrs. Andrews never just moves on anyway. She is happy to answer questions because even if those of us that do understand the lesson have no questions, we still pay attention to Mrs. Andrews' explanation.
Mrs. Andrews isn't the youngest and newest teacher in our school. A lot of people think that younger and more modern teachers are the way to achieve better test scores. I disagree with that statement completely. Mrs. Andrews' experience and knowledge is the very reason why all her classes love and respect her as both a teacher and a person.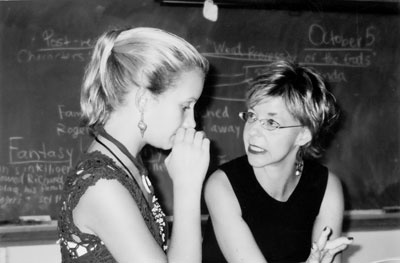 © Olivia L., Pompton Plains, NJ