My Point of View
MAG
February 8, 2013
I can smell the mold that grows in between each and every synthetic fiber I am sitting on. Everyone is sitting on it; they just don't realize it. Every surface that is accessible to hands is covered with millions of microscopic organisms. The very air that I inhale is putrid with dirty gases, filthy germs from the nostrils of commuting strangers, and minute flakes of dandruff that could be mistaken for mere dust.

There is a man sitting two seats away. His breathing pattern is heavy through his nose, and one nostril is blocked with mucus. He smells like furnace oil. He pulls out something from inside his leather jacket; I can tell by the crinkling of his sleeves and the screech of the folds that gather at his elbows as he moves. There is a very faint scent of eau de toilet trailing from the object. The delicate essence of lilac flowers after a light rain intertwined with the vines of violets weaves its way to me through the Toronto air. It's a photo of his late wife. He sighs and wipes a tear from his cheek, his gnarled fingers rubbing like sandpaper against his stubbly face, the single tear splashing to the ground. Surprisingly, I can hear it – the ripples and the gentle sound of the water droplet collapsing on itself before flattening out into a small disregarded puddle. The car shakes a bit, slows down and then keeps going. He slips the photo back into his pocket.

"Union station, the next stop will be Union station."

Next, I move on to the lady sitting in front of me. She is young, probably between 25 and 30. She has just finished applying a thick layer of strawberry lip gloss, the kind that smells sickly sweet; the chemicals used to make it are raw in the air. I wrinkle my nose. Her left heel is restless against the vinyl floor, tapping at a moderate tempo. Her heel is thin, the stiletto kind. There is a rough sound of ruffling pages, a newspaper perhaps? The odor of the ink is that of the Toronto Star, and it quickly meshes with the underground tunnel air. She is chewing mint gum, probably Stride given the amount of aspartame I detect. Annoyingly, the gum gives up to the pounding of her jaw, cracking loudly as though she is chewing bubble wrap. She crosses her right leg over her left, continuing the steady tempo. Her panty hosed legs rub together, fine mesh net to fine mesh net, though it sounds more like a child walking on a waxed floor with wet shoes.

The phone in her bag is vibrating, but she can't hear it, so I tell her. She starts an animated conversation with the person on the phone. Frankly, I can't help but eavesdrop. And please, don't think me a perverted creeper; it's just what I do: listen.

"Now arriving at Union Station. Now arriving at Union Station."

Suddenly, the car comes to a stop and the doors are pulled back with a whoosh of compressed air. Not many commuters enter. The doors close and we are moving at a rapid speed again. A strong scent of pine has wafted into the car.

Now there is a little girl sitting between the old man and me, licking an orange lollypop. She swings her legs back and forth, back and forth. There is a balloon tied to her wrist, the helium slowly leaking out. It reminds me of my neighbors who, when using their barbecue, purposely let the propane gas shriek through the seams of the valve.

Old wool. She is wearing a pea coat that smells like it was just taken out of a deep space in the closet in the basement of her home. There is ferret hair all over her coat.

The pine scent tells me that she helped move some small trees her height. I inhale deeply. The scent is soothing and refreshes my nostrils, making childhood memories spark to life. I imagined mother and father decorating the evergreen tree outside, hanging lights and putting up ornaments. The girl starts biting the lollipop, her teeth crushing it to shards. She swallows loudly, a big gulp. She proceeds to gnaw on the stick.

"St. Andrew Station, the next stop will be St. ­Andrew Station."

I shift my weight in my seat as my butt has fallen asleep. This is the world through my point of view. I see the world with my ears. I see the world with my nose. What you can't necessarily hear with your ears or smell with your nose is crystal clear to me. I have learned that blindness is not a burden but a gift. It allows me to appreciate the hidden things you take for granted. It's simply another way of looking at the world.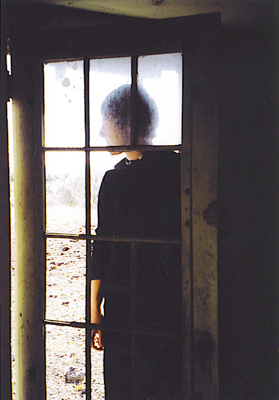 © Lindsay S., Billings, MT