A Moment of Silence
October 23, 2012
The most we as a people have learned in this life comes from the absence of motivation. To just sit down, gazing at the tiny twinkling orbs above us, and letting our thoughts form. Taking us into a place no words have dragged us before. To a solitude of peace deep within the body, beyond where our mind controls and glues pieces of thoughts into overcrowded sentences. It can take us where complete thoughts do not have to be grammatical, to where nouns and verbs are just symbols. Utilizing our thoughts into a fluid of consciousness so natural within us is priceless.

Being without language eliminates necessity for control, and opens up the box of our minds, to what is nothing less than a river of ideas. Mentally it makes a small story into a simple thought like one string. And for long memories, or life times, it is felt like a net through a lake of information, plucking the ideas out, but leaving the filler. Each idea tying to the others, making a web, spreading outward ceaselessly, fusing with other webs. Continually opening and spreading our consciousness. Devouring and digesting like a computer virus, viciously sifting through the data, Targeting, catching, spreading.

Elimination of "the word" changes experiences, finding we don't have any necessity but our own necessities. The relaxed and soothing peace of mind that results after really breaking down our own minds into network of computers without any code is a treasured gift. Decomposition of our mind's words into webs, each mind of ours is connected with our experiences we share. There is something beyond what we can physically test and use our sciences for, its truly human.

We can feel that in truest silence we are opening the gift we left closed. Something beyond what is testable, measurable, and touchable. Beyond anything We could ever objectify, personify, or idolize. Look inside Yourself, and find your own moment that will change you.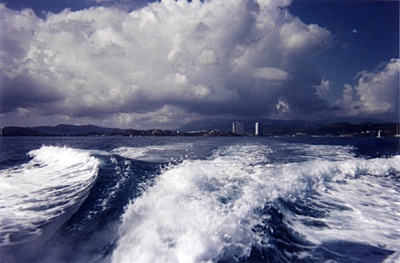 © Jenn T., Dover, NH