High School Diplomats: The Best 10 Days of my Life!
October 22, 2012
In the summer, Princeton University buzzes with the exuberance of high school students who have just had the "best 10 days" of their lives. This feeling is unanimous among all students who participate in the AIU High School Diplomat Program (HSD), at Princeton.

HSD is a ten-day scholarship based program that brings 80 students, half of them from the United States and half from Japan, to participate in cross-cultural exchange at Princeton. Each American student is paired with a Japanese student, with whom they must nurture a strong friendship, despite language barriers. Together, roommate pairs participate in theme days, ranging from Halloween to Country Fair. A perennial favorite, Bunka-No-Hi Day, or "day of culture," is a cultural festival where Japanese students share their rich culture with American students. There are also language classes for both American and Japanese students. Teeming with activities, each day is enriched by a unique desire from students to learn more about other cultures.

HSD strives to draw students from all over the country. This year's applicant pool included students from 24 different states. The accepted pool included students from 15 different states and the District of Columbia.

"HSD values diversity and the selection committee has a keen eye for detecting characteristics that will round out the applicant class and bring many diverse qualities and interests to HSD," says American Director Celine Zapolski.

HSD also propels students to think differently about their lives and their actions towards others.
2012 HSD Special Events Coordinator Machel Ross says the program helped her to "see similarities in other cultures," and learn about herself in ways she didn't expect.

Zapolski sums it up best, "HSD students are not unique in my eyes when they start the program. They come into the program not knowing what to expect - just like any other teenager. Their eyes are opened to new experiences, new people, and a new understanding of what they are capable of. HSD students leave with a unique perspective about friendship, world affairs, and their ability to bridge differences between both."

This summer, I was luckily enough to participate in the High School Diplomats Program. I came into HSD very skeptical. To me, it was just another summer program, another camp during which I'd meet people I'd probably never see again. I was wrong. Through HSD, I've nurtured an open-mind and fostered lasting relationships with students from around the globe. Before HSD, I viewed Japan as just another country. Now, I view it as the home of my many friends. I highly recommend HSD to anybody who's willing to take on the challenge and deepen their understanding of what it means to be a friend and a diplomat.

For interested students, the application process has already begun. The program, which runs from July 30- August 10, 2013, is open to all sophomore and juniors. All lodging, food, and activity cost, are covered by scholarships. Electronic applications are available at www.highschooldiplomats.com. The deadline is January 8, 2013. For more information, please email Mrs. Celine Zapolski, American Director, at celinezapolski@highschooldiplomats.com.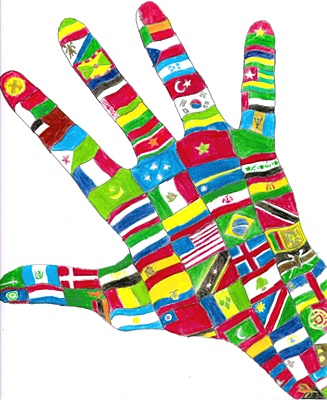 © Adeline N., Ridgefield, CT