A Mother's Wish
July 24, 2008
Grace sat on the swings trying to figure out how to work it. As much as she tried she didn't understand how other children went higher and she was lower. Lonely and defeated she sat there head lowered while the other kids laughed and giggled on the playground.

" I'll jump if you jump," A little girl's voice echoed.

" Okay I trust you, you're my best friend," Another girl answered with excitement. Grace stared at the solid ground like she usually did. Her mother Amy sat on a bench studying her every move. The girls, who seemed to be around six years old, hopped of the swings. Unhurt they turned to face the monkey bars hand in hand. Amy signed upset because her daughter stopped trying. The doctors told her that Grace would be much slower then the other children her age. She should be with the other two girls sharing secrets and swinging happily but instead she was given a disability that she had to deal with. Grace kicked her feet attempting to give it another shot. At six she should have been a carefree kid exploring the world. Amy wished that Grace could play like a normal child and have fun. She also wished that life would be easier for her but nothing could fix the damage. Slowly she picked up her feet and swayed into the air. A smile lit up Amy's face as she saw progress. Grace giggled to herself and ran over to her mom.

" You did it!" Amy yelled to her daughter who ran in an odd way. She jumped into her arms and they hugged for a while. Grace ran back into the crowded playground trying to go even higher.

" Happy is what I wish for," Amy said to herself. She quickened her pace to praise Grace for another challenge completed in her confusing life.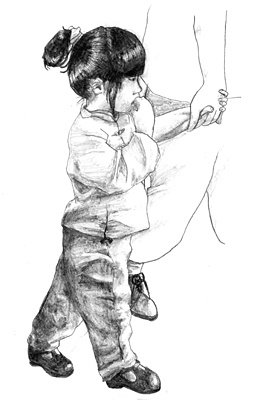 © Laura K., Kendall Park, NJ