Friends.
March 25, 2012
Friends.

Today is not National Friendship Day, but everyday we should celebrate our friends. Go make 'em cookies, guys!! I love my friends. They are terrific chat buddies. always ready with a bit of gossip and fun. We belt out random songs and sing them in the most hilarious ways imaginable. We laugh over "We Are Young" by Fun. because they sing about friends "in the bathroom gettin' higher than the Empire State."

Friends are also great tutors. And you don't have to pay 'em $75 an hour. I pay mine in cookies! Plus, they are good homework buddies also. Although, when I do work with a homework buddy, I often do more procrastinating than working, if ya know what I mean.

What I love about my friends is that they are my reality check. They are crazy and fun but they keep me from going crazy crazy. Especially if I've had a lotta sugar or want to go hit a bird with an orange. They are also a HUGE pot of inspiration. I invented a cupcake because my friend Katrina and I were playing "23 Random Things About You," where she revealed that her favorite sandwich is winter wheat bread with nutella and strawberry cream cheese. We've had a lot of good laughs together.

My group of friends from ice skating are supportive, because we are all working toward common goals; that of being successful at school and at the rink. I can be super crazy with them, share great ideas, and they love taste-testing my cookies, cupcakes, and such.

Though I've made many friends, and lost some, they are all amazing. Weird, quiet, compassionate, kind, spunky, creative. They are great impromptu dancers and love accepting hugs. Which I love giving. We're all big dreamers and we are all FRIENDS.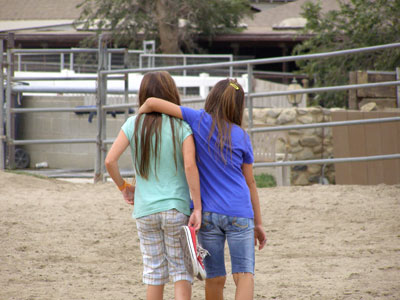 © Austin K., Studio City, CA