Help Me Up
December 12, 2011
"Talk to you later!" Was the last message I received before everything I am was twisted into sweet little lies for the whole web to see. It wasn't the fact that everyone around me thought I was pretending to be all the things I'm not. It was the fact that someone I trusted and loved would do that to me. Take everything I told him about me, every one of our conversations, and change them into something others could laugh at. But it didn't seem to faze him, and soon the rumors stopped, but so did any other kind of talk. I felt abandoned, and misunderstood. All my positive thoughts crushed small enough to be held in my hands. Just another piece of me to laugh at. I couldn't possibly tell my parents. They'd believe the lies. So… I locked a part of me inside, and hurt a part of me outside. Everything about me changed because I was hurt, but I wasn't alone…

Almost everything these days is made easier with technology. So is it much of a surprise that there are so many teens being hurt online? Is it crazy that something made for information and entertainment is also commonly used for arousing hate in other people? Is it normal that something made for good was used for evil because of the choices and attitudes people have against each other? We tend to look at the great things technology has brought to us, but slowly we are starting to see the more obscure and desolate things that tag along behind success. One of these things is cyberbullying, the use of internet and related technologies to harm others repeatedly and hostile.

We notice, in school, how there seems to be a popularity ladder. The same goes for online social networking and other types of communication. You climb up and up and up though even the tiniest thing could pull you down, and when it does you fall hard. It's one thing to have an issue in school and be able to talk it out with your friends and family. It's another thing to have something happen to you on the World Wide Web, when no one else could understand what you are going through. It's the type of problem your parents would brush off, or your friends would think is a pathetic reason to be upset.

Usually we only experience bullying in schools, so it's hard to know how to feel when everyone can have access to your suffering. And the one causing it probably doesn't even know how it's hurting you, they just know that it's funny. It's easy to believe them because in your eyes they seem perfect, and use that to make fun of everything you are. When in fact a lot of peers use fake names and pictures to seem anonymous to those they're hurting. Think about school, your friends and other students wouldn't bluntly point out your flaws. But online there's less guilt because they can't see your reaction. It's difficult to realize the greater confidence they carry, sitting in front of their own computer screen.
I took a survey before writing this that asked how people have been cyberbullied. The answers most had in common were name-calling and threatening. All of the situations had to do with one topic, diversity. Once someone is found to be different they become the target to those "trying to fit in". Big topics on this include; homosexuality, popularity, looks, and hobbies. This only leaves you to wonder, what is 'normal'? If it's making fun of those who just want to be their self, I don't see the benefit of fitting in.

Ending cyberbullying is not as simple as beginning it, but we can all take steps to make it better. The biggest thing a victim can do is tell someone. Being one, I know it's hard and sort of awkward to explain it all. But once it's done it'll warn others of the bullies out there and ultimately stop it before it happens. If it's too late and the damage has already been done, help those who need it get out of their depression. Use suicide awareness websites and campaigns like The Trevor Project, and assure them it'll all be okay. A bully needs to realize how far a person can be pushed –to taking their own life. Coming so close to this myself, I've decided to start a suicide awareness campaign. I'm working on creating a website that'll include topics like bullying and cyberbullying. It will give people a chance to vent, receive help, and give help.

Everyday many teens fall into the deceptive hands of cyberbullies, and are hurt beyond repair. However, together we can end this growing issue and help others do the same.

At first I thought I was the only one who had to deal with this. I thought everyone was out to get me. It took a while and I was reluctant, but it was when I saw that everyone around me was in as much pain as I was, that I stopped what I was doing and remembered who I was. It was then I realized that I didn't care what people said, because it wasn't true. The truth was, I needed to be the one to pull everyone else out of the storm clouds and teach them to do the same. Remind them to never look down on someone, unless they're helping them up.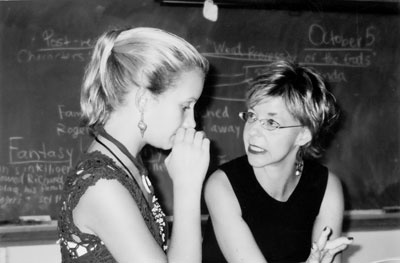 © Olivia L., Pompton Plains, NH