Highschool: The Social Aspect
November 18, 2011
Imagine a place where others judge others based off the way they act. A place where humans show off one of their worst qualities, judging others by their faults. We've all been hopefully been there, in a commonly known aspect, this place is high school. High school, although commonly considered a place of education, is also a place of social apartheid. High school is a place of leeches living off the creative defects of their peers. It might even be called a place of discrimination for some, as the way an individual is treated is based off your sense of style, the things you do, and the way you might talk.

Everybody thinks differently, whether it is regarding religion, style, or speech. Unfortunately, thinking differently than everybody else or having an open mind in high school may cause you to be alienated by your fellow classmates. Having an open mind is a great thing though, and it greatly contributes to a person's sense of style. However, if a person wears something obscure, they will get a few snickers here and there. Somebody's attire can greatly influence his or her high school experience. Keeping up with trends is a thing every generation has had to deal with. Those who don't follow those trends will be heading down the road of bullying. An easy way to solve this problem would be to make students wear uniforms. Uniforms could keep a state of equality throughout the school, allowing students to not worry about the way they dress.

Another thing high school students might get struck down for are the actions or activities they participate in. Social norms are a huge contributor to the way others are treated in school, so conforming to them will make a person 'normal'. This creates an eerie or otherwise harsh atmosphere in schools, because everybody is acting as if they are socially adept robot. A huge contributing factor to the actions teenagers partake in is peer-pressure. If a person is pressured by their peers to do a thing they don't want to do, it creates a passive attitude in the person pressured. A passive attitude will cause more chance for bullying with the student, as they begin to stop caring about the things people do to them. Teaching students the dangers of peer pressure, and how to deal with it can resolve all this. Learning how to say 'no' could save a person from being a victim

One last thing that might cause people to be alienated during school is the way they talk. A pupil who doesn't use slang or Ebonics will get treated differently than one of his peers that does. The dialect some people use in everyday conversations might get thrown back at them, with various forms of mocking from other students. Educating students in different ways people talk may help with this, like bringing in a guest speaker who has an accent or speaks a different language. The way a person speaks will create a negative environment for the said person. If somebody sees a person talking differently, they should be able to observe their speech, instead of making fun of it. Although minor, this is a contributor to bullying around many schools, along with social areas outside of schools.

Anybody's sense of style, the things a human does, and the way somebody talks are all contributing factors towards in school discrimination. All of these problems do have solutions however! If high school students are more educated in the social aspects of school, the bullying will dumb down, allowing students to feel comfortable while learning. Alienating students for any of the above reasons makes one person feel bad, while the other feeds off the dread the other person feels. Education is crucial during a person's life, and pop culture is equally as important. But thing is for sure, students need to be more educated about the current state of our schools discrimination.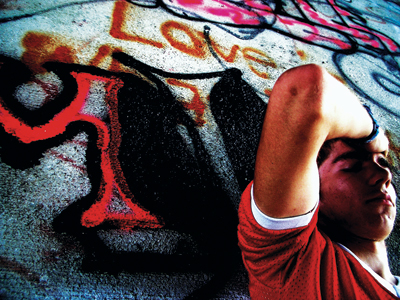 © Sindha A., Champaign, IL