Life is like a Turtle
September 24, 2011
I have been thinking about life lately, and I came to a conclusion. We humans are like a turtle trying to cross the road. I know I have had my ups and downs through life. Just like the turtle trying to get across the road. He has obstacles and challenges he goes through. It can be anything, from a rock or bump, or a car, or even the ditches he has to climb to reach the road.
Like the turtle I have had my ups and downs in life. There have been the good times where I wanted time to freeze so that I could enjoy the moment. There have also been times where I wish I could fast-forward to get to the better part of life. Unfortunately though I wasn't given a remote control for my life. So I have to take each day as it comes and accept it with a smile, no matter the situation.

I have had my 'highway' that I have to cross in order to get to the better parts, but like the turtle I have made it across, and made it alive. Although, like the turtle I have also had the cars that try to run me off the beaten path. But with my integrity still intact I have kept my chin up and found my way back. On a short-term basis those obstacles have made my life miserable. But on a long-term basis it has made me a stronger and better person that I was before.

In a way those obstacles helped me. Even though I may not have known it at the time, I know now that what happened earlier in my life happened for a reason. Like the turtle I have pushed forward, hoping and praying for a brighter day. If you keep your head held high, eventually you will succeed. Another thing I have figured out is that if you have a positive outlook on things than chances are things will appear to be better than they truly are.
Everyone has their good days, and everyone has their bad days. The point is to get through those days no matter what is thrown your way. No matter what happens there is a hint of light at the end of your dark tunnel, all you have to do is believe to see that it's there and you will make it through the day, and even life!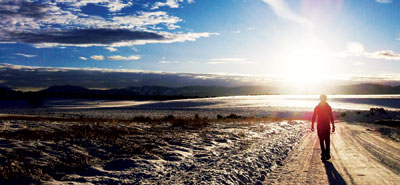 © Brendan P., Carbondale, CO