Food For Thought: Gluttony in the Face of Hunger
September 7, 2011
I watch as a young boy, no older than five, is handed a birthday bag with cake and a small toy. His face lights up, and I smile. In my mind, I wonder who he is and his story. Is he in school yet? Did he get anything for his birthday? I sigh sadly when I realize that chances are, his parents could probably not afford anything for him. Whenever I volunteer at the food bank, I see people of all types from many backgrounds. I see the older, friendly lady who picks up all types of vegetables and exchanges recipes with the volunteers. I see the shy teenagers who look slightly wary of which classmate they may see there, and the consequences of teasing if recognized. I see the little children who smile at everyone and who love the special treats and toys they get to pick from time to time at the food bank. Although each client is different, they still have one thing in common--they rely on the food bank's support to survive.

I have volunteered at the food bank every summer since the sixth grade. As I've grown, I've realized how small things make such a big difference in people's lives. The cake mix and frosting given to kids on their birthdays allows parents to celebrate in a small way without spending too much money. The donated clothes give the clients many different, fashionable options of things they can wear. The amount of fresh pastries and bread available to be distributed is limited, but the clients don't mind, as long as they get occasionally something nice to eat. The quantities of food cans and pasta are also limited, but it at least gives the families coming to the food bank enough to eat for a week. I watch sadly as so many people come throughout the year, all in need of assistance to survive.

When I'm at home, I turn on the TV, and what I see horrifies and disgusts me. I see an eating competition, with competitors scarfing down four times the amount of food they should eat in one day, let alone one meal! So much food is wasted by these people. The record for hot dog eating is 68 hot dogs in ten minutes. That is enough to provide three meals to 22 people in one day . My mind flashes to the young boy at the food bank. He only gets one cake in a year. If the same amount of money wasted on buying those hot dogs was given to the boy's family, he would be able to buy his own toys and his own food. The shy, nervous teens would be able to afford their own food, and be released from their anxiety of recognition and teasing. I change the channel on the TV, only to find another eating show, but this time, a show where the host is challenged to eat as much as possible. I watch as he somehow finishes a hamburger with twelve patties and twelve slices of cheese. What makes it worse is that he is being egged on excitedly by an enthusiastic crowd who have probably never gone to bed hungry! I sigh exasperatedly--that food could have gone to twelve homeless people, who are in need of a decent meal. Not only could the food have been given to someone who needed it, but the money spent to produce the shows and competitions could buy food for the hungry. According to Feeding America, $100 can help provide 800 meals. Imagine if the millions of dollars spent on such shows was instead spent feeding others. No one would have to ever go to bed hungry or worry about feeding their family the next day.

In my utopia, I see the boy again. He smiles, but what surrounds him is different. Instead, it is a happy family, with a large home, nice clothes, and plenty of food. Their pet dog runs around his feet, and the boy laughs, chasing the dog around and taking him outside to play. I see the older, friendly lady. She smiles as she hums to herself, cooking all types of exotic foods from the plethora of food surrounding her for her house party later in the evening. I again see the altered lives of the shy, distressed teenagers, who now lead happy lives in high school, wearing decent clothes and getting good grades. They come home to a happy family, and have a good, healthy dinner together, and go to bed, just to start the carefree day again.

But when I go back to the food bank, I am disappointed to still find the same state of poverty and hardship around me. It seems as though the wind has blown my dream away. Sitting back in my room, I can't help but wonder--will I ever see a world with less hunger and closer to my utopia? Maybe not. We, who are lucky to have been blessed with small luxuries, should at least have the decency of not making a public spectacle of gluttony. Is that too much to ask?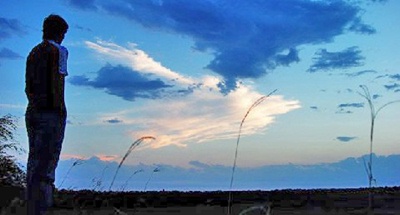 © Stefanie K., Katy, TX