Sometimes...
February 22, 2011
Sometimes people hurt us.

Sometimes we hurt them back.

Sometimes we don't know what hurts people, because we grew up in a place where nothing hurt.

When I was in fifth grade, my classmates decided to acknowledge the fact that I was Indian, although I was only 1/4. But they didn't seem to care. I looked Indian, and I wasn't afraid to hide the fact I was one.

One day a little red haired boy started making fun of me. I wasn't as tall as him, and I wasn't as smart, and he seemed to have been introduced to life a lot more quickly than I had been.

Well, he started calling me "Injun" and "Spear-thrower." I didn't know what to say, so I just looked away and tried to block it out.

Since I had grown up in a tight, protected family, I didn't know how to fight. I never even argued with my brother. I didn't know how to defend myself, how to hurt the other person. So the only comeback I had was "Pale-face!" And that only brought more names.

Truth be told, it didn't bother me all that much when that one boy started calling me names. He was just an obnoxious boy, and he had always been one. I just thought he was being mean because he was just that way.

But then other boys started calling me names. "Wagon burner" seemed to be the next most popular.

I held strong though, and walked with my head high up, ignoring these comments. I had great friends who loved me and didn't care if I were Indian. So why should these stupid boys bother me?

But then I overheard the guys in my class talking with the guys in the class above us. They were talking about me.

"Dude, she has such small boobs!"

"Look at her face! Gross!"

"She's so awkward looking!"

It was true, I didn't have huge boobs, and I had acne, although it wasn't that bad. It was also true that I had hit my growth spurt and became tall and lanky, almost as taller than the boys.

That was the knife that pierced through my wall.

I went home and cried to my mom that night. She gave me some words of advice.

"People are always going to be mean. Sometimes you won't have anyone to cry to, sometimes you won't be able to stop them. You can't take to heart what people say because they don't ever mean it. If they say you're ugly, they will regret it later. If they say they hate you, you'll be their best friend in a few years."

She kept telling me these things that I didn't understand. I told her I didn't want to go to school the next day, but she said that I had to hold my head high, because if I let them have the satisfaction, it wouldn't stop.

I don't remember what happened after that, but I do know that those same guys ARE my best friends. Those same guys are like brothers to me.

Sometimes people hurt you. Sometimes you don't know how to hurt them back. Sometimes you don't need to.

But whatever happens, it'll only make the future better.

So just hold your head high like I did, and just let it roll by. You don't have to punch or slap or kill people to get your way.

Because life is life and there's not a lot you can do about it.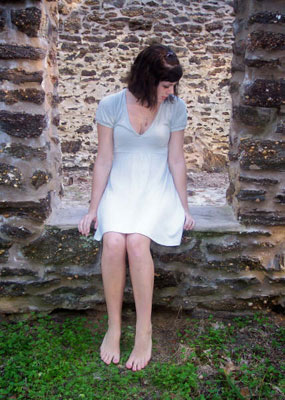 © Katie S., Vineland, NJ