Living in the Limelight: The Dof Superstardom
January 20, 2011
What do you do when you are an idol at age 15? How do you act when your salary has more than 6 zeros in it? Where do you go when its breaking news every time you change your socks? Celebrities are the corner stone of American life. Their faces are everywhere: on the covers of magazines, on billboards, and on movie screens. It is a social requirement for teenage girls to be on either Team Edward or Team Jacob. All 7-year-olds who cannot sing the Hannah Montana theme song by memory will be shunned. The interconnectivity provided by TV and the Internet has turned Americans into mindless groupies who do nothing but follow the crowd. Sadly, with arrests, addictions, and serious attitudes, the effect of today's super-media has been even worse on the celebs themselves.

Although pop stars and movie actors are normal humans, they get treated as anything but. Fans treat them like gods. Haters treat them like Satan. All celebrities are seen as one object that has sent so many of them to prison or to the grave: money. Producers see musical talents and pretty faces as ways to get rich quick. Who wouldn't want to be a Covergirl if Taylor Swift is one? Who wouldn't want to use Proactiv to get Katy Perry's flawless complexion? Who wouldn't want a shoe endorsed by Jay-Z?

Agents don't look at superstars as human beings, but as ways to further their own agenda. From scripting every word that comes out of a singer's mouth to staging publicity stunts for a movie star, managers are willing to do anything the more desperate they are for money. Celebrities have become so removed from the world that they have started believing that they don't have to play by the world's rules.

Eyes shining, smile blinding, the pop singer bows after her final song of the night. Her long hair, thick and glossy, swirls behind her as she slinks off the stage. When she's sure she's alone, she pulls out a bottle of Jack and takes a deep swig. And another. And another. When the bottle and her mind have emptied, she hops into her Corvette. Who cares? She's famous. She won't get a DUI. Someone with her status could never crash. If she does get caught, her agent will get her out of trouble, just like he always does.

So many, too many celebrities have this kind of mindset. Lindsey Lohan spends more time in jail or in a halfway house than her own home. Miley Cyrus isn't exactly a poster child for innocence. Reckless behavior is just a stepping-stone to alcohol and drugs, which have spelled an untimely death for big faces like Brittany Murphy, Billy Mays, and Elvis. Many celebrities don't even care about this. When they tried to make Amy Winehouse go to rehab, she said "No, no, no."

There are hundreds of celebrities in America, and some of them handle the limelight better than others. Those that do keep their heads above water are the ones who keep in touch with their human side. Fame and fortune certainly isn't at all what its cracked up to be, but as long as there are people willing to watch, Disney channel and MTV aren't going anywhere. For the time being, everyone, including celebrities, need to remember one thing: superstars are not superhuman, and being famous is no reason to cut yourself any more slack than you would if you sold computers for a living.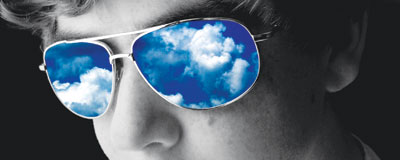 © Joseph B., Mesquite, TX